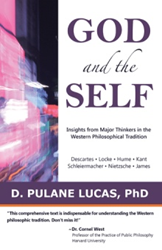 RICHMOND, Va. (PRWEB) March 23, 2018
D. Pulane Lucas, PhD, explores the works of a number of philosophers and thinkers in an in-depth manner to elucidate the wisdom of their thought projects, theories and philosophies. She writes "God and the Self: Insights from Major Thinkers in the Western Philosophical Tradition" (published by Archway Publishing) for individuals seeking a deeper understanding and knowledge of mankind's shifting conceptualization of God and the self throughout time.
Opening with an examination of freedom, guilt and the moral law, this three-part volume examines the work of Immanuel Kant, Samuel Taylor Coleridge and Friedrich Nietzsche before analyzing the views and influences of René Descartes, John Locke, David Hume and Friedrich Schleiermacher on conceptions of God and the self. A final section on self-awareness investigates the self from the pragmatic perspective and draws upon the works of William James and George Herbert Mead, with each essay in the volume examining a fundamental way of conceptualizing and understanding the self with a historical and theoretical perspective.
"This book should be viewed as a handbook of sorts that assembles and examines important works from major thinkers in the Western philosophical tradition," Lucas says. "The essays illustrate how a variety of influences shape ideas, institutions and society; and demonstrate how the rise of the public sphere contributed to the expansion of knowledge through dialogue and debate. The book places the theories and intellectual projects of philosophers in relation to one another and within social and historical context. In this book, I engage complex and dynamic notions of God and the self in a manner that makes these philosophical works more appealing to and suitable for contemporary non-academic audiences."
"I would like readers to gain an appreciation for how the philosophers sought to liberate the mind from oppressive conditions and destructive forces, and how they understood the power of thought and the imagination in transforming the human experience and helping individuals and communities recognize their genius. I want to encourage readers as well to view their conditions in life as experiences designed to bring clarity and understanding about their hopes, dreams, desires and purpose. I want them to muster the faith and courage to make their hopes, dreams, desires and purpose a reality."
"God and the Self: Insights from Major Thinkers in the Western Philosophical Tradition"
By D. Pulane Lucas, PhD
Softcover | 5.5 x 8.5in | 216 pages | ISBN 9781480852433
E-Book | 216 pages | ISBN 9781480852426
Available at Amazon and Barnes & Noble
About the Author
D. Pulane Lucas holds a doctorate degree in public policy and administration from Virginia Commonwealth University, Master of Arts degree from Harvard University, master's degree in theological studies from Harvard Divinity School, and an MBA from Harvard Business School. She advocates cognitive flexibility as an approach to idea generation, problem solving and personal well-being. She is a consultant in research, proposal writing and program evaluation. She teaches in the School of Business at Reynolds Community College in Richmond. She is married to Rev. Dr. Frederick A. Lucas Jr., and she is the mother of Stanley and Fredericka.
Simon & Schuster, a company with nearly ninety years of publishing experience, has teamed up with Author Solutions, LLC, the leading self-publishing company worldwide, to create Archway Publishing. With unique resources to support books of all kind, Archway Publishing offers a specialized approach to help every author reach his or her desired audience. For more information, visit http://www.archwaypublishing.com or call 888-242-5904.