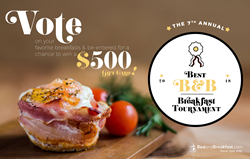 "This is a celebration of the most delicious half of B&B: breakfast," said Ryan Hutchings, Director of Global Marketing at BedandBreakfast.com.
AUSTIN, Texas (PRWEB) March 23, 2018
BedandBreakfast.com®, the world's largest bed and breakfast travel site, is hosting its 7th Annual Best B&B Breakfast Tournament. B&B travelers and breakfast enthusiasts will vote to find the best savory breakfast.
Full sweepstakes details and rules visit: https://www.bedandbreakfast.com/info/best-bb-breakfast-tournament/
"This is a celebration of the most delicious half of B&B: breakfast," said Ryan Hutchings, Director of Global Marketing at BedandBreakfast.com. "This annual competition is a perfect way to showcase our inns' impressive kitchen skills and creativity. If you're up to the challenge, you can make them at home with the recipes our innkeepers have provided, or you can relax, wake up and try them fresh from the B&B kitchen."
The 16 finalists were chosen based on recipe creativity, uniqueness and appeal by guest judge Amanda Kuda, Director of marketing at Kerbey Lane Cafe. The finalists are as follows:

Baked Grits Souffle with Pancetta, Eggs and Tomatoes by Charred Oaks Inn in Versailles, KY
Barbecue Benedict by Pettigru Place Bed and Breakfast in Greenville, SC
Breakfast Risotto by Harrison House Suites in Friday Harbor, WA
Breakfast Rockefeller Royale by Stonehurst Place in Atlanta, GA
Breakfast Tacos by Tucker House Inn in Friday Harbor, WA
Cheesy Grits and Bacon Pierogies with Sorghum-Onion Jam by Old Caledonian Bed & Breakfast in Caledonia, MO
Egg Roulade by Biltmore Village Inn in Asheville, NC
Fried Chicken and Waffle Grilled Cheese with Blackberry Jalapeno Jam by Black Dolphin Inn in New Smyrna Beach, FL
Ham and Cheese Breakfast Souffle with Dijon Hollandaise by Cedar House Inn Bed and Breakfast in Saint Augustine, FL
New London by The Inn at Pleasant Lake in New London, NH
Parmesan French Toast with Poached Eggs by Maine Stay Inn & Cottages in Kennebunkport, ME
Savory Croissant Baked French Toast with Dijon Mustard Poppyseed Glaze by Avenue Hotel Bed and Breakfast in Manitou Springs, CO
Savory Stuffed French Toast with Lemon Thyme Applesauce by Bristol House Bed & Breakfast in Bristol, RI
Savory Truffle Steak & Eggs with Shallot Tarragon Bearnaise by Open Gates Bed & Breakfast in Darien, GA
Sloppy Joe Scramble by Mill House Inn in East Hampton, NY
Southern Pimento Cheese & Sausage Biscuit by The Roost Boutique Hotel in Ocean Springs, MS
How to Enter:
Contestants may visit the sweepstakes website between March 23 and April 6 to vote on their favorite breakfast by filling out the entry form for a chance to win a $500 Visa gift card. Entrants may vote every day on a new match-up and increase their chances to win.
For the full sweepstakes terms and conditions, please visit the official sweepstakes rules page.
About BedandBreakfast.com
BedandBreakfast.com is the world's largest B&B travel site. With more than 10,000 properties worldwide and nearly 80,000 rooms, we help travelers discover and book unique small hotels, inns and B&Bs. Based in Austin, Texas, BedandBreakfast.com was founded in 1995 and is owned by HomeAway®, the world leader in vacation rentals and a part of the Expedia, Inc. family of brands.
© 2018 HomeAway. All rights reserved. BedandBreakfast.com and the BedandBreakfast.com logo are trademarks of HomeAway. All other trademarks are property of their respective owners.