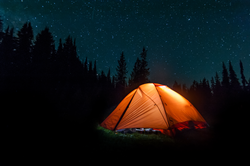 #HikeCampCode is all about exposing today's youth to the beauty of Montana while teaching them 21st century coding skills.
MISSOULA, Mont. (PRWEB) March 23, 2018
Today, the Big Sky Code Academy announced open registration for it's 1st annual Big Sky Code//Camp.
This unique 2 week #HikeCampCode program provides youth ages 13 - 15 the opportunity to spend the first week at the beautiful Mountain Sky Guest Ranch in Emigrant, MT learning to code and working with five river health experts, who will each present a current challenge facing the Greater Yellowstone Ecosystem. In small groups, Code//Campers will choose a water resource problem to solve and work with their scientist to design and build their solution informed by Big Sky Code Academy's youth focused 20-hour coding curriculum. Their goal: A functional mobile app or game that presents a solution or raises awareness of the issue. Code//Campers will present their ideas (and their working technology) to that same panel of experts, who will provide feedback and judge the solutions. Winners will have their app promoted by the agency whose problem they tackled.
In addition to learning new skills, Code//Campers will build relationships with local experts and experience the wilderness in the Greater Yellowstone Ecosystem as they gain a robust and empathetic appreciation for the natural world they are seeking to protect.
In their second week, Code//Campers will enjoy a life changing hiking, camping and backpacking adventure through the breathtaking Beartooth Mountain range, ending with whitewater rafting on the exciting Yellowstone River.
During this portion of the camp, Code//Campers will learn from our team of experienced backcountry guides as they prepare to enter the backcountry (Days 1&2), hike and camp in the Beartooth Mountains (Days 2 – 5), whitewater raft down the Gallatin River (Day 6) before heading home on Day 7.
This fun-filled adventure will expose Code//Campers to the natural beauty of Montana while telling stories on the trail, learning about the region and enjoying the serenity of the area's wilderness, all while keeping an eye out for local wildlife! The trip wraps up with a celebratory final banquet with our entire Big Sky Code//Camp staff before heading home.
More information can be found here: http://www.bigskycodeacademy.org/youth/hike-camp-code/