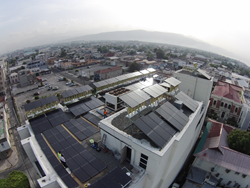 MANHATTAN BEACH, Calif. (PRWEB) April 17, 2018
ImpactPPA announces today their newest renewable energy power generation project for one of Jamaica's leading law firms, Myers, Fletcher & Gordon (MFG). The project will be managed on ImpactPPA's innovative blockchain financing platform, bringing both energy generation and energy financing into a new era.
MFG is dedicated to being a leader in the clean energy field. Since 2014 the firm's Kingston, Jamaica headquarters have utilized PowerMill™ units, built by Windstream Technologies, that combine solar panels and wind turbines to generate 230 kWh/day of renewable energy. At the time of its installation, the project was the world's largest of its kind. Now, ImpactPPA and MFG will modify and exponentially expand the existing rooftop system to boost that output to greater than 2780 kWh/day.
ImpactPPA uses blockchain tokens to fund and manage SmartPPAs (Power Purchase Agreements) for distributed renewable energy generation projects around the world. ImpactPPA will install MFG's project and manage its lifetime upkeep. In return, MFG will pay a tariff per kilowatt hour, utilizing ImpactPPA's GEN credit, a pay-as-you-go blockchain token model. Utilizing embedded Smart Contracts, blockchain technology is ideal for handling energy financing and management because of its immutability, security, and automation potential—traits that render it efficient and safe for handling up-front investment as well as tracking day-to-day payments.
According to Dan Bates, CEO of ImpactPPA, "Blockchain opens up channels for rapid, secure financing that traditional energy funding models have left unexplored. Access to energy can save lives and improve quality of life for communities across the globe, and blockchain solutions allow that energy to come from plentiful, sustainable sources such as wind, solar, and geothermal. We see these early projects for ImpactPPA as a springboard into financing more and more renewable energy systems in rural and energy-impoverished areas worldwide."
The MFG/ImpactPPA project will be a transformative technology, not just in terms of demonstrating that off-the-grid renewable power generation provides sufficient electricity, but that it can be made affordable. With ImpactPPA's help, MFG will be able to reduce their dependence on expensive fossil fuels by 80 to 90 percent, well on the way to the firm's goal of complete off-the-grid electricity generation. The project is projected to bring $7,593,016.54 in revenue for ImpactPPA over its lifetime.
"Jamaica is the ideal place to build a renewable energy power system," says Donovan Cunningham, Director of Finance and Administraction of MFG. "We have the natural resources and a population that is ready to benefit from cleaner and more affordable electricity. This will be the Caribbean's flagship installation demonstrating our financing partnership with ImpactPPA, which is going to show other nations how a system can be built. We at Myers, Fletcher & Gordon see this as a big step forward for the region to shift to renewables and reduce our dependence on expensive fossil fuel imports, opening us up to the many economic and social benefits that alternative energy sources provide."
To learn more about ImpactPPA join the Telegram group: https://t.me/impactppa_official
For more information about ImpactPPA visit: http://www.impactppa.com
About ImpactPPA
ImpactPPA is a blockchain platform built to disrupt renewable energy finance and accelerate global energy production. ImpactPPA's platform and tokenized model allows communities to rapidly fund and deploy clean energy solutions by untethering traditionally expensive and inefficient structures for energy financing. For more information, please visit http://www.impactppa.com or by email at info@impactppa.com, twitter: #impactppa.
Disclaimer:
ImpactPPA's tokens are utility tokens and are not intended to be securities in any jurisdiction or intended to be sold in any jurisdiction in which crypto assets are prohibited, including but not limited to the People's Republic of China and South Korea. This press release does not constitute an offer or solicitation of an investment in a security of ImpactPAA. The token sale described in this press release will only be made by means of ImpactPPA's sale materials, which include its white paper.
Special Note Regarding Forward-Looking Statements:
Except for the statements of historical fact contained herein, the information presented herein constitutes "forward-looking statements" within the meaning of the U.S. securities laws. Often, but not always, forward-looking statements can be identified by the use of words such as "plans," expects," "budget," "scheduled," "estimates," "forecasts," "targets," "intends," "anticipates," "believes," or variations of such words and phrases that refer to certain actions, events or results to be taken, occur or achieved. Forward-looking statements involve known and unknown risks, uncertainties and other factors that may cause the actual results, performance or achievements of the ImpactPPA to be materially different from any future results, performance or achievements expressed or implied by such forward-looking statements. There can be no assurance that such statements will prove to be accurate as actual results and future events could differ materially from those anticipated in such statements. Accordingly, readers should not place undue reliance on forward-looking statements. Also, forward-looking statements represent estimates and assumptions only as of the date hereof. Except as required by law, no person assumes any obligation to update any forward-looking statements publicly, or to update the reasons actual results could differ materially from those anticipated in any forward-looking statements, even if new information becomes available in the future.
For additional media inquiries please contact Chris Bibey at chris(at)vermamedia(dot)com