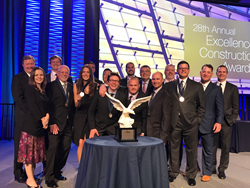 "We're extremely proud of each of these projects and the dedicated project teams who have put so much of themselves into every one of these buildings," said Jeff Hansen, AP CEO.
RICHARDSON, Texas (PRWEB) March 23, 2018
- Single-Family Projects up to $100 Million (Preston Garage)

Institutional - $5 to $10 Million (Silverthorne Performing Arts Center)
Healthcare - $10 to $25 Million (USPI Midland ASC/MOB)
Representatives from the company received the award March 21 during ABC's 28th annual Excellence in Construction awards celebration in Long Beach, Calif.
"Associated Builders and Contractors is proud to honor AP with three best-in-class Excellence in Construction Eagle Awards for their tremendous work in completing each project safely, on time and budget," said 2018 ABC National Chair George R Nash Jr., director of preconstruction at Branch & Associates in Herndon, Va. "The dedication to innovation, productivity and world-class craftsmanship demonstrated by AP and its employees produced truly impressive results that any project owner would be proud of."
Preston Garage is a 33,000 square foot underground parking garage for a private resident with a capacity for 73 vehicles. One of the team's many complex design issues and challenges with this project involved the 100' subterranean tunnel and corridor that joins the basement of the existing house with the new garage. The team was required to make the new structure for the tunnel fit seamlessly with the existing house structure and the concrete piers. The AP team was able to overcome these design challenges, achieving great success on a very complex structure that in size and scope was equal to a commercial project.
Unique to Silverthorne Performing Arts Center was the integration of the visual arts, showcasing local artist's work throughout the facility. It also acts as an educational and support center for the Town, giving the community a versatile and functional new space. The project required innovations to the theater aspects to deliver exceptionally functioning performance capabilities, while the construction team overcame the challenges of building in mountain terrain in a congested, tourist location.
USPI Midland ASC/MOB provided its own set of location and design difficulties. The new 52,000 square foot fully-furnished medical office building, as well as a 4,160 square foot expansion to USPI's adjacent Texas Surgery Center, faced local labor challenges, requiring AP to assemble a number of risk-management strategies in order to maintain its high standards for quality and safety. The addition and expansion of the ambulatory surgical center was conducted while the center was fully operational, however the AP team implemented innovative solutions allowing them to exceed the expectations of the owner and deliver both facilities well ahead of schedule.
"We're extremely proud of each of these projects and the dedicated project teams who have put so much of themselves into every one of these buildings," said Jeff Hansen, AP CEO. "We are very honored that three of AP's projects were selected by ABC to be recognized on the distinguished list of the best projects across the nation."
The Excellence in Construction awards program is the industry's leading competition, developed to honor innovative and high-quality merit shop construction projects, with an Eagle Award presented to the top project in each category. The award honors all construction team members, including the contractor, owner, architect and engineer. The winning projects, selected from entries submitted from across the nation, were judged on complexity, attractiveness, unique challenges overcome, completion time, workmanship, innovation, safety and cost.
A panel of industry experts served as the competition's judges. This year's panel included representatives from the Building Owners and Managers Association International, the Smithsonian Facilities Construction Division, the Construction Management Association of America, Engineering News-Record, Design-Build Institute of America and various construction-related firms nationwide.
About AP
Adolfson & Peterson Construction (AP) is a U.S.-based, privately held builder that is consistently ranked among the top 50 construction managers and general contractors in the nation. Headquartered in Minneapolis, Minnesota, the company delivers innovative and collaborative building solutions for clients across the country from its regional offices in Dallas, Denver, Minneapolis and Phoenix. Founded in 1946, AP serves clients in the education, healthcare, commercial, municipal, multifamily, hospitality and senior living market sectors. For more information, visit http://www.a-p.com or follow us on Facebook, LinkedIn and Twitter.
About ABC
Associated Builders and Contractors (ABC) is a national construction industry trade association established in 1950 that represents more than 21,000 members. Founded on the merit shop philosophy, ABC and its 70 chapters help members develop people, win work and deliver that work safely, ethically and profitably for the betterment of the communities in which ABC and its members work. Visit us at abc.org.