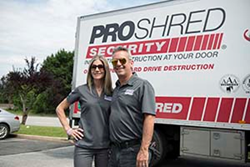 Serving the Philadelphia community is extremely gratifying, we take a lot of pride in helping local businesses keep their information safe.
PHILADELPHIA (PRWEB) March 26, 2018
PROSHRED® Philadelphia has been named a Velocity 50 Award winner for 2018. The awards are bestowed by CEO Report, a media connection engine for executives on a national level, and serve as the brand's most prestigious awards program of the year. PROSHRED® Philadelphia joins 49 other area leaders in recognition including biotech firms, law offices, and fitness centers.
Velocity 50 winners are chosen based on a continued pattern of rapid growth as well as a commitment to community involvement. Honorees are recognized specifically for the impact they have on the regional economic landscape. "We're so honored to have been recognized by our peers not only for our growth," explains PROSHRED® Philadelphia CEO, Ginny Heron-Doerr, "but for our overall impact on the greater Philadelphia community."
The Velocity 50 Awards were formally acknowledged at a black tie-optional dinner on March 1st at the Ballroom at the Ben. The event highlighted a "growth story of the year" from a local business that exemplifies success.
Started by Heron-Doerr and her partner, Jim Doerr in 2006, PROSHRED® Philadelphia has become one of the leading names in document destruction in the region. Serving commercial companies of all sizes, as well as residential clients, PROSHRED® offers one-time shredding services and scheduled shredding for paper, hard-drives & media, and other proprietary information, while properly handling all forms of electronics. Locally-owned and operated, with a National service reach, PROSHRED® Philadelphia supports it clients when, where, and how they need them!
"Serving the Philadelphia community is extremely gratifying," explains Heron-Doerr. "We take a lot of pride in helping local businesses keep their information safe. It's just an added bonus to be recognized in this way by the team at CEO Report."
For more information on the services offered by PROSHRED® Philadelphia or on the Velocity 50 awards, please contact the Paoli, PA office at 484-323-2100 or visit https://www.proshred.com/philadelphia/.
PROSHRED® PHILADEPHIA has been one of the most well-known names in corporate security in Philadelphia for over a decade. The firm offers mobile shredding, drop-off shredding, as well as auxiliary shredding services.