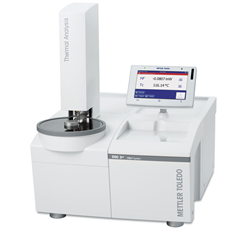 These state-of-the-art instruments enhance our support for crystalline form characterization, and provide our scientists with the ability to obtain valuable information about the thermal properties of these materials for the clients we serve
WEST LAFAYETTE, IN (PRWEB) March 29, 2018
SSCI, a division of AMRI that provides global analytical services, has responded to industry demand for the company's cGMP services by implementing Mettler Toledo's thermal analysis instruments that meet the updated regulatory data integrity standards, which are now being enforced by regulatory agencies in the United States and European Union as of Jan. 1, 2018.
"These state-of-the-art instruments enhance our support for crystalline form characterization, and provide our scientists with the ability to obtain valuable information about the thermal properties of these materials for the clients we serve," Susan Bogdanowich-Knipp, Ph.D., director analytical technology at SSCI.
The Mettler Toledo instruments at SSCI now include models TGA / DSC 3+, TGA / SDTA851e, DSC 3+, and DSC 822. These systems, which became operational in December 2017, provide direct access to high-quality thermal analysis data as a stand-alone service offering and will further enhance the valuable information that SSCI delivers from polymorph, salt and cocrystal screens.
"Our scientists have consistently demonstrated the knowledge and expertise needed to solve complex solid-state problems for our clients in the pharmaceutical and chemical industries using techniques like thermal analysis. These new instruments give us the ability to develop high quality cGMP methods that meets data integrity regulations," said Jon Selbo, Ph.D., general manager at SSCI.
About SSCI
AMRI SSCI, LLC (SSCI), a division of AMRI, provides industry leading contract solid-state and analytical testing services and exists to help companies in the pharmaceutical, food, agrochemical, and other chemical industries develop better products and get them to market more quickly. Over the past quarter century, SSCI has provided comprehensive cGMP research and analytical services in the characterization and chemistry of solid materials, with particular expertise in small and large molecules being investigated for pharmaceutical use. SSCI's offerings include early candidate support services (in vitro analysis, stability, solubility, dissolution, excipient compatibility), solid-form screening and polymorph, salt and co-crystal screening, form selection, particle engineering (process development, particle size method development), property improvement, crystallization of difficult materials, process control, biochemical analysis, full analytical chemistry support including method development and validation, intellectual property consulting and litigation support, and related research activities. For more information about SSCI's analytical and solid-state services, please contact 1-800-375-2179 (1-765-463-0112).
About METTLER TOLEDO
METTLER TOLEDO is a leading global manufacturer of precision instruments. The Company is the world's largest manufacturer and marketer of weighing instruments for use in laboratory, industrial and food retailing applications. The Company also holds top-three market positions for several related analytical instruments and is a leading provider of automated chemistry systems used in drug and chemical compound discovery and development. In addition, the Company is the world's largest manufacturer and marketer of metal detection systems used in production and packaging. Additional information about METTLER TOLEDO can be found at http://www.mt.com.
Since the early 1960s, METTLER TOLEDO has offered customers innovative Thermal Analysis solutions, products and services. The Thermal Analysis Excellence Line offers tailor-made solutions for academic and industrial applications. For customers in regulated industries, the METTLER TOLEDO STARe Thermal Analysis software offers unrivalled capabilities to meet the requirements of 21 CFR Part 11 with support for user management, audit trails and electronic signatures. The industry-leading performance and innovative technology of the Thermal Analysis Excellence Line will propel you to the forefront of your field and guarantee you the highest level of Swiss quality, accuracy and efficiency. For more information about METTLER TOLEDO'S Thermal Analysis solutions, please contact 1-800-638-8537.
Media Contacts
For AMRI:
Gina Rothe
gina.rothe(at)amriglobal.com
518-512-2512
For METTLER TOLEDO:
Chris Arko
chris.arko(at)mt.com
614-841-4354