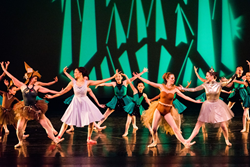 The Spring Ballet and other programs are built around District Dance's core values of fostering confidence, connection, commitment, character and community, with a passionate mission to empower girls and young women to be leaders so that in any endeavor, they are unstoppable.
GERMANTOWN, MD (PRWEB) March 26, 2018
District Dance of Germantown, Maryland celebrated its second annual Spring Ballet performance. Each year, District Dance provides a unique opportunity for children in the community of all dance levels to participate in a classical ballet performance accompanied onstage by professional ballerinas. The family friendly performance not only provides creative entertainment to the public, it provides a vehicle to build community and character, which is a main driving force of District Dance.
"Nothing brings me greater joy than to see local children confidently take the stage after months of hard work. The dancers get so excited for this performance experience because they get to spend weeks in the studio interacting with and learning from professional ballerinas. It's so important for our young dancers to have shining and accessible examples of dedicated, passionate, professional adults who derive purpose and fulfillment from dance! It's not just the kids who gain so much from this experience. The District Dance Theatre professionals are just as lucky. They have the unique opportunity to take the stage with their biggest fans! They are reminded weekly of why they started dance, the excitement it brought them as a child, and why they have worked so hard their entire lives to be on stage. The entire experience is full circle," stated Melissa Curling, Director and Founder of District Dance Company.
District Dance Company was founded and is structured to be more than just a dance studio. The company's programs and staff are built around its core values of fostering confidence, connection, commitment, character and community, with a passionate mission to empower girls and young women to be leaders so that in any endeavor, they are unstoppable.
"As a professional dancer it thrills me to be part of this program that teaches both skill and builds character. The Spring Ballet is a fantastic experience for the kids to be interacting with professional dancers on a regular basis as part of this performance. It gives them not only a learning opportunity to witness how professionals act in the studio space, how to dress for class and rehearsals, and what to do in long run-through rehearsals when you're not dancing, but also tears down the idea that all professional dancers are these "perfect" beings in cookie-cutter form. They get to see that we are all very different in our own ways and we all have something unique to bring to the stage. It also gives the girls the chance to see that they too can reach a professional level if they put the work forward and keep pursuing it," stated Maggie Sullivan, professional dancer with District Dance Theatre.
~Maggie Sullivan (The Wicked Witch of the West)
Data has shown the positive influence that dance and proper dance instruction has on children. A post production survey sent to the parents of dancers of the Spring Ballet resulted in 100% stating that the overall experience with District Dance boosted their child's confidence. Self-esteem expert Jack Canfield, of Chicken Soup for the Soul fame, states that 80 percent of children entering the first grade scored high on the self-esteem inventory. By the fifth grade only 20 percent of the children were scoring high. And by the time they graduated from high school that number was down to just 5 percent. District Dance hopes to bridge that gap by providing opportunities to perform onstage for girls of all ages and skill level. By combining dance education and creative exploration, all in a positive, accepting environment, children reap the benefits of hard work and learn the value of commitment.
Auditions for the 2019 Spring Ballet will be held in November 2018. Each production requires 10-12 weeks of rehearsals with about 10-20 hours of total practice time. Rehearsals run from January to March.
Learn more about District Dance by visiting the company's web site at http://www.DistrictDanceCo.com
Visit District Dance at the company's studio in Germantown, MD
ABOUT DISTRICT DANCE
With a focus on empowering girls of all ages and skill level, District Dance offers a wide variety of recreational and competitive dance classes in a friendly and diverse studio environment. With certified dance instructors providing level-based classes in ballet, tap, jazz, hip-hop, acrobatics, contemporary and lyrical, District Dance offers confidence-boosting performance opportunities and award-winning competitive teams for every skill level. District Dance is committed to making the arts accessible to all children in Montgomery County.