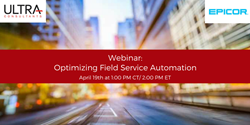 This webinar will help teams stay current with modern technologies that streamline the management of field service operations, transforming processes for not only employees, but customers and all key stakeholders
CHICAGO (PRWEB) April 03, 2018
Ultra Consultants, Inc., an independent research and enterprise solutions consulting firm serving the manufacturing and distribution industries, is teaming with Epicor, a global provider of industry-specific enterprise software to promote business growth, to present an industry best practices webinar entitled Optimizing Field Service Automation.
The one-hour webinar is scheduled for Thursday, April 19 at 2 p.m. ET (1 p.m. CT). It is tailored for manufacturing and distribution project teams seeking to leverage technology to take the risk, costs and effort out of managing field service operations and personnel.
Learn more about the event and register at the Ultra Consultants Webinar Events webpage.
Representatives from Ultra Consultants and Epicor will share information that helps attendees understand modern innovations in field service automation. The webinar will demonstrate how to effectively manage dispersed field employees, customers and partners while reducing costs and improving customer satisfaction. The event also shows how the transition to field service automation can increase the efficiency and productivity of field personnel.
Attendees will learn how to:

Balance scheduling and dispatching to cover a broad range of activities from installations to repairs, preventative maintenance as well as work covered by warranties and service contracts.
Maintain a 360-degree view of customer sites, equipment, and service coverage.
Quickly capture service needs and access customer, site and equipment information to shorten the time between call receipt and job assignment.
Schedule the right technician, equipped with the right tools, at the right time to complete the service right the first time.
Enable field technicians to work online or offline, allowing them to complete the service regardless of Internet coverage.
"Today's enterprise is challenged to efficiently manage service technicians in the field to deliver cost effective customer service, especially with the proliferation of mobile devices and complex connectivity issues," stated Jeff Carr, CEO and founder of Ultra Consultants. "This webinar will help teams stay current with modern technologies that streamline the management of field service operations, transforming processes for not only employees, but customers and all key stakeholders."
Register for the Optimizing Field Service Automation webinar to reserve your spot.
About Epicor
Epicor Software Corporation drives business growth. We provide flexible, industry-specific software designed to fit the precise needs of our manufacturing, distribution, retail, and service industry customers. More than 45 years of experience with our customers' unique business processes and operational requirements are built into every solution―in the cloud or on premises. With this deep understanding of your industry, Epicor solutions dramatically improve performance and profitability while easing complexity so you can focus on growth. For more information, connect with Epicor or visit http://www.epicor.com.
About Ultra Consultants
Ultra Consultants is an independent research and enterprise solutions consulting firm serving the manufacturing and distribution industries throughout North America, as well as companies with global operations. Since 1994, Ultra has delivered enterprise technology expertise and process management to drive business performance improvement for our clients. More information on the company's services, leadership, industry verticals served, and software vendor relationships can be found at http://www.ultraconsultants.com.
Epicor and the Epicor logo are trademarks of Epicor Software Corporation, registered in the United States and other countries. Other trademarks referenced are the property of their respective owners. The product and service offerings depicted in this document are produced by Epicor Software Corporation.