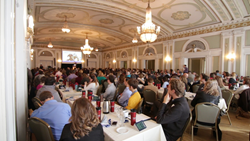 "We have created an exceptional, transformative learning experience for local marketers." -Chris Davis, social account manager
DULUTH, Minn. (PRWEB) March 26, 2018
Organizers of Duluth's annual Zenith Digital Marketing Conference have unveiled the agenda for the popular industry event, including details about keynote presenters, sessions and networking opportunities. The Zenith Conference takes place April 26, 2018, at Duluth's famed Greysolon Ballroom and Zeitgeist Teatro Theatre.
Now in its seventh year, Zenith marks a longstanding collaboration between Duluth-based Aimclear® and the Duluth Area Chamber of Commerce to help professionals break boundaries and broaden their marketing acumen. Proceeds from Zenith Conference support Fuse Duluth, a Chamber-led initiative designed to foster career opportunities to help keep young professionals in the Duluth-Superior area.
The Zenith conference draws keynote speakers and session presenters who grace top marketing conferences nationally and internationally. Keynote speakers for 2018 include Adam Singer, analytics advocate for Google, and Duane Forrester, VP of industry insight for Yext. The conference includes a deep roster of other top presenters, including Aimclear Founder Marty Weintraub, former Duluth Mayor Don Ness, Aimclear digital marketing leaders and several other local/national digital marketing experts.
Those who plan to attend can still tap early bird pricing until March 31, with rates of $149 for non-profit marketers and Duluth Area Chamber of Commerce members, or $199 for those who are not Chamber members. Zenith also offers special $99 registration for college students.
#Zenith2018 Extra: Full-day SMB workshop
This year, SMB marketers can expand their Zenith Conference experience with a full-day, pre-Zenith workshop geared specifically for the needs of small and growing businesses. Early bird workshop pricing is just $150 for the full-day workshop.
Dubbed "Grow Your Business- Marketing Workshop & Zenith Pregame Tailgate," SMB marketers can take part in an exclusive interactive training led by Aimclear experts. The workshop happens Wednesday, April 25, at Aimclear's Duluth office at 9 West Superior Street.
Attendees will gain tactical and tangible insight that can be implemented quickly into an SMB's marketing mix. Focusing on four key priority areas for marketing dollars - website, content, paid search and paid social - workshop sessions will incorporate participants' companies for real-time, on-the-spot feedback.
"Full-day workshops like 'Grow Your Business' will typically cost hundreds or even into the thousands of dollars at top national marketing conferences. We have created an exceptional, transformative learning experience for local marketers for a fraction of the cost," said Chris Davis, social account manager for Aimclear. "Our team will dig into online marketing challenges confronting companies of one to 75 employees. We will help SMB owners and marketers drive more value from their website, content, paid search and social media marketing."
Complete details about the workshop and registration information can be found at zenithconference.com/product/zenith-workshop-2018/.
About Aimclear®
Aimclear® is a 6x Inc. 500/5000 digital marketing agency dominant in audience targeting and customer acquisition. Our differentiator is the Tao of holistic brand-builds and integrated psychographic performance marketing attribution.
As Aimclear also distributes segmented messages to influencers for buzz, links and earned-media, the agency has evolved to be the missing link unifying search, social, PR, influencers and psychographic display. More information is available at http://www.aimclear.com.