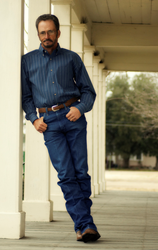 DUNCAN, Okla. (PRWEB) April 03, 2018
This coming Saturday, April 7, Marty Haggard- the oldest son of the legendary Merle Haggard, will be performing a tribute to his dad at the Simmons Center in Duncan.
Marty will share songs, accompanied by world-class musicians, that were written and recorded by his father. He will also tell personal stories behind the songs, as he grew up alongside his father while he was writing and recording this great music. Marty has been performing his own music for forty years, but his love for his dad and his music inspired him to begin a tribute show, which he has been performing since 2010.
There are three ways to purchase tickets. Visit Crutcher's Western Wear in Duncan and Lawton, OK or the website http://www.martyhaggardtickets.com or call 1-800-838-3006. Advanced tickets are $25, at the door will be $30. Performance begins at 6:00 pm.