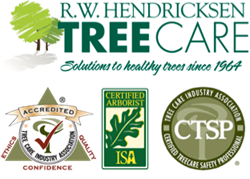 It shows customers that this is a model tree care company, the best in the area
CHICAGO (PRWEB) March 27, 2018
Hendricksen Tree Care is a leading provider of residential and commercial tree care services in Wheeling, IL that serves Chicago and the suburbs. They have long been accredited by the Tree Care Industry Association (TCIA) and they recently renewed their 3-year Residential / Commercial Accreditation. TCIA is the most respected association in tree care and grants accreditation to tree care companies that follow the principles of ethics, quality, and consumer confidence. Less than one in a hundred tree companies qualify for accreditation.
In order to earn accreditation from the TCIA, the policies and procedures of a tree care business like Hendricksen Tree Care must be thoroughly audited. TCIA accreditation is largely accepted as a "seal of approval" in the green industry. According to TCIA chief program officer Bob Rouse, "Accreditation is a process that helps the owner really get a handle on their business, get it organized, understand strategically how it works and where they want to take that company in the future. It shows customers that this is a model tree care company, the best in the area, and raises the bar for other tree care companies in the area." Of one thousand tree companies, only one hundred can verify insurance requirements and become TCIA members. Of the one hundred TCIA members, only ten percent are Accredited. Owner Darlene Hendricksen has stated multiple times, "It's the right thing to do for our clients and our employees."
The TCIA Accreditation program is the only type of accreditation program for tree care service providers. The evaluation process for accreditation ensures that accredited companies meet the practices and standards set at every level of their business. By earning the renewal for their TCIA Accreditation, Hendricksen Tree Care has shown that it adheres to all practices and standards that must be met for accreditation.
About Hendricksen Tree Care
Hendricksen Tree Care is a residential and commercial tree care company that provides tree treatment and maintenance services, tree pruning, and tree removal. They were founded in 1964 and have been committed ever since to providing quality tree care services in Arlington Heights, Northbrook, Mount Prospect, Palatine, Barrington, Lake Zurich, and the surrounding north and northwest Chicago suburbs. Their ISA certified arborists and Illinois State Licensed Applicators use industry best practices to effectively care for trees and provide treatment against insects and disease, giving you predictable results. Contact Hendricksen Tree Care at (847) 305-5524 to learn more about their tree care services.