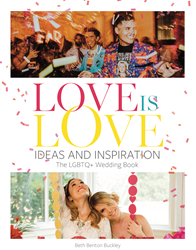 We're lucky to have the time we have on the planet and luckier if we meet someone else to enjoy the ride with. Love and be loved. – Bryan Adams, singer, songwriter, photographer, and activist.
PALM BEACH, Fla. (PRWEB) March 31, 2018
Publisher benton buckley books announces the release of "Love Is Love: Ideas and Inspiration: The LGBTQ+ Wedding Book" as a hardcover book in stores April 2018.
The 204-page book "Love Is Love: Ideas and Inspiration: The LGBTQ+ Wedding Book" includes more than 200 color photographs of real-life same-sex wedding celebrations from across the United States. The inspiring stories, ideas, and creativity of passionate industry professionals are featured within. The book includes events in a variety of styles, from a stunning military ceremony in Washington, D.C. by Blue Linden Weddings & Events to floral designer Paul Robertson's own San Francisco backyard-chic wedding to a beautiful Florida beach ceremony photographed by Jessica Bordner. The LGBTQ+ friendly wedding professionals featured among these pages demonstrate that love is an equal right for all and meant to be celebrated.
Advice on love, marriage, and preparing for the big day is woven throughout the collection. Elizabeth Schwartz, one of the nation's best-known advocates for the legal rights of the lesbian, gay, bisexual and transgender (LGBT) community, graciously provided an important historical perspective for readers in an emotionally powerful foreword, giving just a glimpse of the hard-fought journey for marriage equality. "Love Is Love: Ideas and Inspiration: The LGBTQ+ Wedding Book" is intended to inspire all who believe that love truly is love. As best said by the legendary Edie Windsor: "Marriage is a magic word. And it is magic throughout the world. It has to do with our dignity as human beings, to be who we are openly." The weddings shown throughout the pages of this book evoke emotion; the joy is palpable, it's infectious, and benton buckley books believes it's high time we made magic!
Book Details
Title:Love Is Love: Ideas and Inspiration: The LGBTQ+ Wedding Book
Pages: 204
Hardcover Price: $35
ISBN: 978-0-9964721-8-0
Distributor: Independent Publishers Group
About the Publisher: Principal publisher Beth Buckley has been in the publishing industry for more than 25 years. Beth has curated and published a multitude of stunning books on interior design, architecture, celebrity event design, wineries, weddings, travel, and more.
About benton buckley books: benton buckley books' publications are carefully developed and personally curated by principal publisher Beth Buckley to feature the most engaging content. benton buckley books produces bold books, quirky books, edgy books, big books, small books, eBooks, and tangible books. Each printed edition is meticulously produced using the best methodologies and materials. benton buckley books is proud to have an amazing tribe of inspiring, dedicated, and creative women who make bold endeavors possible.
About the Distributor: Small Press United is a subsidiary of Independent Publishers Group, the second largest and the most technologically sophisticated independent press distributor in the United States.