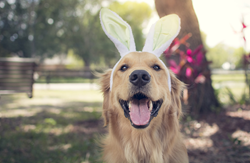 "An Easter favorite, hot cross buns contain dried fruit, such as currants and raisins are toxic to dogs. If your dog eats even a small quantity of these dried fruits they can suffer severe kidney failure which may be lethal."
CLEVELAND (PRWEB) March 27, 2018
As most of the country digs out from under the snow and rejoices in spring, there are hidden Easter dangers putting our pets at serious risks. With kids home for spring break, it's important to keep in mind the Easter holiday may present life-threatening hazards for our furry friends. Be aware that Easter Sunday isn't the only concern, it can sometimes be a few days after the incident before the symptoms start to show. Embrace Pet Insurance compiled a list of five Easter dangers that pet parents should be extra cautious about the days leading up to and following the Easter holiday.
1. Chocolate
Eating the ears off the chocolate Easter bunny is a household tradition, but don't let a dog or cat help. Chocolate is toxic to pets and could result in an expensive Sunday emergency vet visit. Embrace Pet Insurance always sees an increase in claims for chocolate poisoning around Easter. Last year, a curious Beagle racked up a veterinary bill for over $1,400 after helping himself to a basket of chocolate. Chocolate contains theobromine, a potent cardiovascular and nervous system stimulant which is rejected slowly in pets.
2. Xylitol
Make sure to hide sugar-free candies sweetened with xylitol up higher than an Easter-basket-hunting pets can reach. Even in small amounts, xylitol is extremely toxic to a furry family member. Veterinary bills are usually around $2,000 and require follow up visits to check blood work.
3. Lilies
Lilies are especially dangerous to cats but should be kept from dogs as well. Lilies in the genera Lilium and Hemerocallis are all toxic. This information should be on the tag of the plant, and when in doubt find a safer option. Some of the claims made to Embrace were over $3,700. Treatment for lily intoxication includes aggressive decontamination possibly followed by a dose of activated charcoal, IV fluid therapy, urine and blood work monitoring, and overnight supportive care for approximately 48 hours.
4. Plastic Grass
The plastic grass used to line Easter baskets and displays is an accident waiting to happen for most pets. It isn't digestible which means that it can become lodged in the gastrointestinal tract and wreak havoc if consumed. Pet parents should be concerned if their pet is vomiting, has diarrhea, a decrease in appetite, lethargy, and stomach pain.
5. Table scraps
Your Easter meal is likely delicious, and most dogs and cats probably agree – but be sure that dinner guests know not to feed them any scraps and remember to secure the trash once the feast is over. People food is too rich for your pet's belly. According to Jenna Mahan, RVT, and Director of Claims for Embrace Pet Insurance, "We see an increase in the number of claims related to gastroenteritis, constipation, foreign body [ingestion], and lethargy during the holidays. An Easter favorite, hot cross buns contain dried fruit, such as currants and raisins are toxic to dogs. If a dog eats even a small quantity of these dried fruits they can suffer severe kidney failure which may be lethal."
If a pet parent notices a pet experiencing vomiting, dehydration, diarrhea, lethargy, or hyper-excitability, they should take them to their primary veterinarian right away to discuss a recommended course of treatment. "Unexpected accidents and illnesses can happen at any time – and our dogs and cats aren't exempt from this. Having pet insurance is like having a safety net for unexpected veterinary bills," says Dawn Pyne, Marketing Manager for Embrace Pet Insurance. "It provides you with peace of mind that if the unexpected happens, you're covered."
About Embrace Pet Insurance
Embrace Pet Insurance is a top-rated pet health insurance provider for dogs and cats in the United States. Embrace offers one simple yet comprehensive accident and illness insurance plan that is underwritten by American Modern Insurance Group, Inc. In addition to insurance, Embrace offers Wellness Rewards, an optional preventative care product that is unique to the industry. Wellness Rewards reimburses for routine veterinary visits, grooming, vaccinations, training, and much more with no itemized limitations. Embrace is a proud member of the North American Pet Health Insurance Association (NAPHIA) and continues to innovate and improve the pet insurance experience for pet parents across the country. For more information about Embrace Pet Insurance, visit http://www.embracepetinsurance.com or call (800) 511-9172.