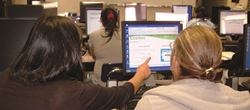 Learning to read and write in one's primary language is vital to their success and self-confidence in the workplace, managing health care, or raising children
Syracuse, NY (PRWEB) March 26, 2018
ProLiteracy announces the launch of Leamos™ (Let's Read), an easy-to-use online literacy course that teaches non-literate Spanish-speaking adults to read and write in Spanish before enrolling in an English as a second language course.
Leamos helps adults with less than two years of formal education learn basic literacy so they can confidently pursue other educational goals for the first time in their lives, including learning English and passing the citizenship exam. The course consists of 43 self-paced instructional lessons divided into nine modules. It takes approximately 150 hours to complete, and has been used successfully by thousands of individuals, adult education programs, libraries, and more.
"There are million of non-literate Spanish speaking adults in America," said Kevin Morgan, president and CEO of ProLiteracy. "Leamos, which was created by ProLiteracy member Centro Latino in 1991, has helped thousands of Spanish-speaking adults achieve literacy in Spanish. Learning to read and write in one's primary language is vital to their success and self-confidence in the workplace, managing health care, or raising children. ProLiteracy acquired Leamos in 2018 with the goal to scale this effort. This will increase the accessibility of quality educational materials and training and will help literacy programs around the country serve more students more efficiently."
For more information on Leamos, visit proliteracy.org/leamos.
About ProLiteracy:
ProLiteracy believes every adult has the right to literacy. ProLiteracy, the largest adult literacy and basic education membership organization in the nation, is committed to creating a world in which all adults are literate. ProLiteracy has 1,000 member programs in all 50 states and the District of Columbia and works with 52 nongovernmental organizations in 34 developing countries. ProLiteracy develops educational programs that help adults acquire the literacy practices and skills they need to function more effectively in their daily lives with reading, writing, and basic math skills, as well as financial, digital, and health literacy. For more information about ProLiteracy, please visit http://www.proliteracy.org.