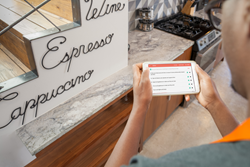 "With TurnKey FieldSync, we have developed an industry-changing technology platform to automate home cleanings by third-party vendors with simple-to-use systems and tools." - T.J. Clark, co-founder and CEO of TurnKey Vacation Rentals.
AUSTIN, Texas (PRWEB) March 27, 2018
TurnKey Vacation Rentals, Inc. today announced that TurnKey FieldSync, its industry-first technology platform for remote, end-to-end facilitation of housekeeping jobs, has now fully enabled more than 150,000 home cleanings at its vacation rental properties. From automated vendor scheduling, to in-home cleaning instructions, to verification and vendor payments, FieldSync leverages smart technology and systems to maintain a 98 percent guest satisfaction rating of cleanliness upon check-in.
"For vacation rental owners and the vast majority of property managers, it's extremely challenging to remotely manage the schedules, quality and consistency of housekeepers when there's a steady stream of guests booking the home throughout the year," said T.J. Clark, TurnKey co-founder and CEO. "Homeowners and managers can easily spend more time and money on housekeeping than anything else. With TurnKey FieldSync, we have developed an industry-changing technology platform to automate home cleanings by third-party vendors with simple-to-use systems and tools."
Part of TurnKey's smart technology infrastructure for its vacation rentals, FieldSync integrates data and interaction from multiple platforms to schedule, facilitate, verify and consistently improve the quality of housekeeping jobs at properties nationwide. Housekeeping jobs are automatically scheduled upon guest bookings, facilitated through Turnkey HomeDroid tablets installed at every home, verified in the system through photo comparisons, and then rated by each guest upon check-in. Housekeepers with positive ratings continue in FieldSync as TurnKey vendors, while underperforming housekeepers get phased out of the system, ensuring consistent, high-quality cleanings.
"Our guests tell us that a sparkling clean vacation rental is the leading factor contributing to a positive stay. It's also one of the best ways for vacation rental homeowners to ensure positive reviews and repeat bookings," Clark continued. "TurnKey FieldSync enables us to provide the fine hotel experience guests have come to prefer and increasingly expect in their vacation rental."
The FieldSync system includes four key elements:

Housekeeping Scheduler – Uber-style dispatch fully automates scheduling of housekeeping vendors. A new booking generates a housekeeping job alert that TurnKey-approved vendors receive via SMS on a round-robin basis. Upon acceptance, the vendor receives a unique door lock code with time stamps, providing secure access to the home via TurnKey's digital lock, which is programmed remotely.
Vendor Portal – Housekeeping vendors access TurnKey's user-friendly vendor portal via mobile or desktop to see and manage their scheduled jobs, and to accept or reject jobs that have been offered.
Housekeeping App – Once inside the home, the housekeeper must check in via the housekeeping app on the TurnKey HomeDroid tablet. This tablet is geo-coded to the home and includes detailed photos taken by TurnKey's in-market team for use as housekeeping comparison, verification and quality control. The app also prompts the housekeeper to report any onsite issues, such as broken furniture or appliances, or low supply quantities, which will generate a "repair" or "restocking" case for the local TurnKey team.
Field Inspector – Upon completing the housekeeping job, the housekeeper is prompted to take photos of the home using the TurnKey HomeDroid tablet, matching the comparison photos. These photos are then uploaded and reviewed within one minute by a third-party, who either accepts or rejects the photos. If rejected, the housekeeper will be instructed to resolve any issues and retake the photos. If the housekeeper fails to do so, they are not paid for the job. If the housekeeper completes the job in a satisfactory way, payment will be approved and scheduled for the next business day. Finally, guests are prompted upon check-in to rate the home's cleanliness via the HomeDroid tablet. If the guest provides a 5-star rating, the cleaner will receive a $10 bonus payment. If the guest rates the clean with 3 stars or below, TurnKey follows up with the housekeeper on that job to correct any issues or phase them out of the FieldSync system.
TurnKey provides full-service vacation rental property management through smart home technology combined with local teams to deliver 24/7 service. The company's proprietary technology platform integrates its smart locks, decibel monitors and FieldSync housekeeping system installed in every TurnKey home to automate time-consuming property management tasks, giving homeowners peace of mind, and guests a reliable, fine-hotel experience in a vacation rental. This combination of technology and refined management processes enables TurnKey to charge an industry-low commission rate, typically half the 35-50 percent charged by most vacation rental property managers.
Additional TurnKey FieldSync Facts:

153,506 total cleanings facilitated (with an estimated 460,500 beds made)
More than 1.9 million housekeeping photos reviewed for clean verification
1,462 housekeeping vendors operating on the platform, averaging 26 vendors per market across 55 markets
For more information on TurnKey FieldSync, and how TurnKey technology enables a smarter vacation rental solution, visit: https://www.turnkeyvr.com/vacation-rental-management
About TurnKey Vacation Rentals
TurnKey Vacation Rentals is a full-service vacation rental property management company for premier vacation rental homes in top U.S. travel destinations. As a leading vacation rental hospitality brand, TurnKey provides guests with the consistency and quality of a fine-hotel experience, while optimizing the management, marketing and return on investment for vacation rental homeowners. Our proprietary smart home technology – digital smart locks, FieldSync housekeeping scheduler, HomeDroid tablet, noise decibel monitors and more – integrates with local, in-market teams to ensure extraordinary vacation rental experiences in every home, every stay, every time. TurnKey is based in Austin, Texas, and venture-backed by Adams Street Partners, Silverton Partners, Altos Ventures and institutional and angel investors. To learn more, visit http://www.turnkeyvr.com.