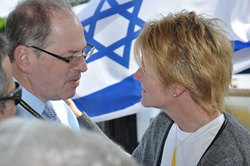 To comfort all who mourn, To console those who mourn in Zion,To give them beauty for ashes,The oil of joy for mourning,The garment of praise for the spirit of heaviness;That they may be called trees of righteousness, The planting of the Lord, that He may be glorified.
HOUSTON (PRWEB) March 30, 2018
NOTE: News media who plan to attend must contact Rozalie Jerome, media coordinator for the event, at 832-287-5057 by noon Friday, April 13.
On Sunday, April 15, in a city still recovering from the ravages of Hurricane Harvey-related flooding, the public will gather on the Rice University campus to remember the Holocaust, honor survivors and their families, listen to personal testimonies of suffering and triumph, remember those who served as liberators, upstanders, and rescuers, and march as sign of their commitment to never forget the price of remaining silent in the face of persecution, prejudice, and indifference. The March of Remembrance opening service features pastors, rabbis, government officials, and community leaders, as well as professors from Texas A&M Galveston and Rice University, not to mention Boy Scouts and the Texas A&M Galveston Corps of Cadets Color Guard.
The order of service includes two exciting pre-events: at 11:30 at the Grand Hall Rice University Memorial Center, live music will begin with Gideon Stanley's band and Ashley Stringer, daughter of Doug Stringer (Somebody Cares Houston). At noon, Dramatic Truth Ballet Dance Theater from Kansas City will perform a specially choreographed Holocaust ballet. Meanwhile, harp and violin music will set the mood in the chapel adjacent to the Grand Hall; a traditional name-reading ceremony will begin at 12:30, with Hillel students joining the adults in reading the names of Holocaust victims. The young adult choir from The Church at Bethel's Family will sing before the shofars blow just prior to 1:00 p.m., when Doug Stringer will open the service. Texas Holocaust and Genocide Commissioner, Rabbi Brian Strauss of Congregation Beth Yeshurun will pronounce a rabbinical blessing during a symbolic stone ceremony between a local survivor and one of her children; that ceremony will symbolize the passing of the torch of testimony of the lessons of the Holocaust to the younger generations. Paul Sarvadi , CEO and co-founder of Insperity and Dr. Victoria Sarvadi will read the mayoral proclamation, and Houston Police Chief Art Acevedo will speak. Consuls, survivors, second and third generation survivor descendants, along with past Holocaust Memorial scholarship winners and current scholarship applicants, as well as liberator descendants and Texas Holocaust & Genocide Commission commissioners, will all be recognized at this significant point in the service. Israeli Consul General Gilad Katz will address the assembly. Survivor and descendant testimonies will follow, featuring beloved local survivor and March advocate Ruth Steinfeld, as well as Steve Finkelman, distinguished leader in the Jewish community and child of Holocaust survivor Wolf Finkelman. Another key speaker will be Luisa Lupprich, a German Christian and repentant Nazi descendant who will express her remorse for her ancestors' role in the Holocaust. Rice University History Professor Carl Caldwell will describe the death marches before Texas A&M History Professor David Lawhon directs the crowd in assembling for the memorial walk. Pastor Walter August and Rabbi Dan Gordon will close the service in prayer and pronounce a blessing over the walk itself.
Everyone will be invited to march to Congregation Emanu El and to attend this year's Citywide Yom HaShoah Commemoration, a remembrance event facilitated annually by the Holocaust Museum Houston and the Greater Houston Jewish Federation. The event coincides with the nation's annual commemoration of the Holocaust that is established by Congress and led by the United States Holocaust Memorial Museum in Washington, DC. This commemoration is held and honored by the March of Remembrance and global March of Life movement.
There have been marches in over 300 cities in fourteen different nations around the world. This year in the USA, Marches of Remembrance are being held in Arkansas (Russellville, Springdale), Arizona (Prescott, Tucson), California (Crestline, Fullerton, Murrieta), Colorado (Loveland), Florida (Miami, Ocala), Hawaii (Honolulu), South Carolina (Spartanburg), Texas (Arlington, Canton, Dallas, Houston, and Saginaw), and Washington (Bellingham). For more information on the location nearest you, including dates and times, please visit http://www.marchofremembrancehouston.org. Moreover, on May 13-15, 2018, there will also be a March of the Nations in Jerusalem, where participants from around the world will convene. Together with Israelis from all spheres of society, thousands of Christians will walk from the Knesset to Mt. Zion to honor Holocaust survivors and publicly demonstrate a united front saying "No!" to anti-Semitism. May 4-16th is organised with Dr.Richard Booker and Rabbi Dan Gordon as tour educators. Visit http://www.marchofremembrancehouston.org to register and http://www.mon2018.com concerning the Holocaust conference in Jerusalem.
The Holocaust was the state-sponsored, systematic persecution and annihilation of European Jewry by Nazi Germany and its collaborators between 1933 and 1945. Jews were the primary victims—six million were murdered. However, Roma and Sinti (Gypsies), the mentally and physically disabled, as well as nationalities such as the Poles were also targeted for destruction for racial, ethnic, or national reasons. Millions more, including homosexuals, Jehovah's Witnesses, Soviet prisoners of war, and political dissidents, also suffered grievous oppression and death under Nazi Germany. The March of Remembrance provides a way for the community to come together and to say, "Never Again will we be silent!"
Visit our website for free registration, videos, details, and more about the March of Remembrance Houston. We are available at: http://marchofremembrancehouston.org
https://www.facebook.com/MarchofRemembrance/