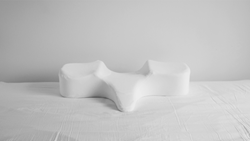 Posture is a huge problem in today's world. We're always either looking down on our phones or slouch behind our computers. Our goal is to help people look better and feel better by improving their posture.
SEATTLE (PRWEB) March 29, 2018
With experts citing your pillow as a critical item responsible for your posture, a pair of chiropractors and entrepreneurs have created the most comfortable posture pillow ever made. True Pillow is now available on Kickstarter.
Unlike countless posture pillows on the market today, the team created the True Pillow to not only fix your forward head posture, neck curve, but also your rounded shoulders thanks to its long wedge design.
"Believe it or not, there are about 25 million posture pillows sold each year in the global market, but none of them are truly comfortable – eliminating the whole purpose of a pillow… to sleep on," Artem said. "There are some posture pillows available that are somewhat comfortable, but their designs simply don't provide a good sleeping position for side sleepers."
After years of observing our nation's declining posture due to extended computer and phone use, Artem and Andrey joined forces to create the True Pillow for themselves – and to help the thousands of adults who tried to improve their posture without much luck.
"I've interviewed dozens of chiropractors to figure out why so many people struggle with bad posture and why they have such a hard time improving it and noticed that there just wasn't a simple enough solution," Artem added. "That's why we've designed True Pillow to be the ultimate product to give people the most comfortable sleep while improving their posture and overall well-being.
"Other posture pillows are made for one kind of use and positioning, but we designed True Pillow to be more functional than the competition," Artem said. "True Pillow has the ability to not only get you amazing sleep on your back, but also on your side thanks to the properly elevated sides – adding a second pillow or folding your pillow in half to raise your head is no longer required to get healthy, comfortable sleep."
During their crowdfunding campaign, The True Pillow posture pillow is available at special, early-bird discount pricing. For more information and to pre-order, visit True Pillow's Kickstarter Campaign Page.