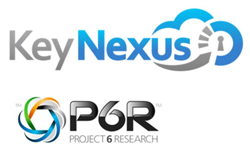 KeyNexus brings an innovative, unified approach to key management that is sorely lacking in the industry
VICTORIA, Canada, and CAPITOLA, Calif. (PRWEB) March 27, 2018
KeyNexus Inc., the leader in Universal Key Management (UKM), an approach to encryption key and secrets management that allows enterprises to leverage a single, centralized approach to serve all their key management needs, announced today their partnership with P6R, a Key Management Interoperability Protocol (KMIP) technology provider, to provide a complete KMIP solution for businesses deploying KMIP-compliant cybersecurity solutions.
The P6R client SDK, provides the ability to deliver KMIP-standardized encryption products and applications, allowing end-users to easily manage encryption keys across the enterprise through a standardized approach.
KeyNexus offers a combined KMIP server and full virtual hardware security module (vHSM) platform that provides easy-to-setup, enterprise-grade, API and KMIP-enabled key management that, when combined with the P6R client, provides a complete end-to-end KMIP solution to develop, test, and deploy KMIP enabled hardware and software solutions.
"P6R and KeyNexus identified that not only were there significant quality and ease-of-use gaps in the KMIP Server market but also that no-one was providing and overall solution that meets both client and server needs. An end-to-end solution like this would support the needs of both enterprise end-users and the KMIP-enabled product vendors they purchase from," said KeyNexus' CEO Jeff MacMillan.
"By leveraging P6R's KMIP Server Library (KSL) and KMIP Verification Suite (KVS), KeyNexus is able to accelerate our time to market and guarantee the highest level of ongoing OASIS standard's conformance and quality, thus freeing up resources to focus on our innovative approach to UKM."
"KeyNexus brings an innovative, unified approach to key management that is sorely lacking in the industry. In this collaboration we have found a KMIP Server partner that we're excited to recommend to our customers, some of the largest enterprise storage vendors in the world," said P6R's CEO Jim Susoy.
By combing the power of KeyNexus' innovative KMS with P6R's leading KMIP technology, KeyNexus is providing a universally accessible KMIP-server solution that meets the increased demand for encryption across diverse applications, databases and multi-cloud services. The result is better data security as well as risk and cost reduction due to eliminating multiple key management products.
For more information about KeyNexus and P6R, please visit http://www.keynexus.net and http://www.p6r.com.
About KeyNexus:
KeyNexus was created to provide centralized, flexible encryption key storage and management. Distributed compute paradigms (including public, private and hybrid clouds), virtualization, IoT and shared compute models have created enormous opportunity for enterprises and organizations to benefit from scalable and more economical consumption of technology. In order to manage diverse and distributed keys for existing and new encryption processes, KeyNexus offers an innovative universal key management (UKM) platform that allows our customers to centrally manage authentication and encryption keys from a single platform deployable in virtually any environment on-premise or in the cloud.
Press Contact:
Paul Lechner
E: plechner(at)keynexus.net
T: +1-250-474-2242
About P6R:
P6R provides multi-platform solutions to a broad range of businesses. P6R partners with itsour customers in an ongoing relationship to develop successful solutions that deliver the highest levels of quality and customer value. P6R's Client and Server KMIP SDKs provide support for KMIP versions 1.0, 1.1, 1.2, 1.3, 1.4, and 2.0. P6R's SDKs are available for Linux and Windows and run on Intel and ARM processors. P6R's PKCS 11 provider (version 2.40) supports many commercially available HSMs as well as supporting a KMIP adaptor allowing PKCS 11 applications to use a KMIP server instead of an HSM. P6R is a Sponsor member of the OASIS KMIP and PKCS 11 Technical committees.
Press Contact: Jim Susoy
E: jim(at)p6r.com
P: +1-888-452-2580