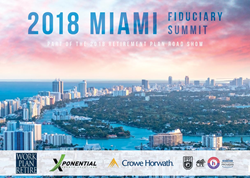 CORAL GABLES, Fla. (PRWEB) April 05, 2018
2018 marks the seventh consecutive year Xponential Growth Solutions (XGS) has held the Retirement Plan Roadshow, first founded in 2012 to assist U.S. employers in reaching their retirement plan goals through educational workshops. The 2018 Miami Fiduciary Summit, set to take place Thursday, May 3rd, 2018 from 11:00am to 3:00pm (luncheon included) at The Biltmore Hotel Miami in Coral Gables, FL, is the sixth stop along this annual, nationwide tour.
XGS is committed to providing education and resources that help business owners, fiduciaries, and finance, human resource, and benefit executives to better understand retirement plan best practices and industry trends. This, in turn, allows them to make informed decisions and develop strategies that will help businesses to grow and provide positive outcomes for plan participants.
The annual Retirement Plan Road Show supports this goal by pairing local speakers with industry leaders to discuss a diverse range of topics, from fiduciary responsibility, plan design, and investments, to healthcare, wellness, and more. In 2017, the Retirement Plan Roadshow reached over 1,200 companies and organizations, positively impacting more than 2 million plan participants representing over $125 billion in retirement plan assets. XGS hopes to have an even greater impact with the 2018 Retirement Plan Road Show.
Following last year's successes, Brett Shofner, the President of Work Plan Retire (Delray Beach, FL) has once again been tapped to host the Miami Fiduciary Summit. Brett Shofner emphasizes that ""Employers are bombarded with information overload from too many sources. For years they have had somebody scoring their plan investments for low cost and strong fund performance. The reality is employees retire successfully based on saving enough money and having diversified portfolio allocations. These actions are best guided by advisors who can inspire the employees and communicate with them in the right ways. Our Fiduciary Summits define what a truly successful retirement plan looks like and how to measure the key components, the Investing Process, Plan Administration and Participant Outcomes.
Employers never signed up for partial fiduciary coverage and that is unfortunately what most of them are currently getting if they just have an ERISA 3(21) or 3(38) provider helping them. We aim to educate them on what comprehensive fiduciary coverage looks like for their plans and how to properly measure the success of their employees retirement income strategies."
As the event host, Brett Shofner will lead discussions on timely fiduciary topics affecting local plan sponsors. This year's lineup of local guest speakers includes:
Eric Grant, CPA & Benefit Plan Services Manager – Crowe Horwath LLP
Speakers To Be Announced!
Topics of discussion for the 2018 Miami Fiduciary Summit include:

What Exactly Are "Participant Outcomes" and How Do You Measure Them?
How to be a Comprehensive Fiduciary
Why Scorecards for Investments is Only Partial Fiduciary Coverage
Learn the Key Items from the Proposed Department of Labor Fiduciary Rule
Convergence of Health and Retirement Benefits
What should an Advisor RFP look like?
How to Evaluate Retirement Plan Fees
Expert Speaker Round Tables
Participant Outcomes Panel
Case Study of an Award Winning Fiduciary
RFP & RFI Best Practices
Participants in the 2018 Miami Fiduciary Summit may be eligible to receive the following continuing education benefits for attendance:
3 Hours of CPE/CPA Credit
3 Hours of HRCI/SPHR/PHR/GPHR General Credit
3 Hours of SHRM Professional Development Credits (PDCs)
CEBS Eligible
The cost to attend this event is a registration fee of $150, which may be waved for select, qualified plan sponsors following completion of a one-minute Retirement Plan Roadshow survey.
About Xponential Growth Solutions
Xponential Growth Solutions (XGS) is an independent resource for unbiased education, best practices, and referrals, working to help employers make informed decisions about retirement plans in order to create a positive impact for plan participants. XGS offers solutions for 401(k), 403(b), 457, and defined benefit retirement plans, while also facilitating national fiduciary educational summits designed to help human resource, finance, and business professionals in charge of retirement plans to understand and observe best practices in order to reach retirement plan goals. XGS founded the Retirement Plan Roadshow, a nationwide series of educational summits featuring local and leading fiduciary experts, in 2012.
For more information, visit: http://www.xgrowthsolutions.com
About Work Plan Retire
Our financial consulting practice at Work Plan Retire has partners that are focused on advisory services for employer retirement plans. We service clients across the nation, with offices in South Florida, Denver and New York. Our services are offered to successful companies who take their retirement plans seriously. We are most effective with clients that have strong company cultures and are successful within their industry. We work with investment committees that are committed to creating outstanding benefit programs for their employees and strive toward fiduciary best practices. We have built our practice since 2002 by servicing clients with over $1 billion in retirement assets and thousands of employees.
We help fiduciaries optimize their retirement plan and measure participant success. We believe employees on track for retirement are more productive in their jobs, more loyal to the employer and ultimately more valuable to themselves and the employer. We will help you build and shape a retirement plan that attracts and retains the right type of employee talent your company covets.
Our commitment is to help you meet fiduciary obligations through investment committee meetings, policy statements, participant success tracking, investment reviews, plan design techniques and employee education.
For more information, visit: http://www.workplanretire.com/