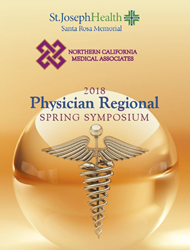 SANTA ROSA, CA (PRWEB) March 27, 2018
Northern California Medical Associates (NCMA) along with St. Joseph Health held the much anticipated Regional Primary Care Spring Symposium on March 24, 2018 in Santa Rosa. This well-attended annual conference plays a vital role in the local medical community, offering physicians and healthcare providers an opportunity to learn about cutting edge treatments, to collaborate, share research and gain fresh perspectives.
At this year's event, physicians from a variety of backgrounds and fields of practice gave hot-topic educational lectures to an audience of healthcare providers that included; internal medicine and primary care physicians, emergency physicians, physician assistants, nurse practitioners, staff RNs, and medical assistants - all from the northern California region. This event gives doctors the opportunity to also earn Continuing Medical Education credits (CMEs) for their attendance.
Programs highlighted during the symposium gave in-depth overviews of the current state of healthcare, and included advanced treatments and new technologies from the experts as they continue to improve patient outcomes and provide exceptional patient experience in the process.
Michael Johnson, D.P.M. of St. Joseph Health Medical Groups served as MC and NCMA's Dr. Thomas Dunlap M.D. was co-course director along with Tucker Bierbaum, M.D. of St. Joseph Health for this year's Symposium. NCMA physicians who spoke at the event included; Henry Huang, M.D. on Cardiovascular Updates, Yuichio Nakai, M.D. on Diabetic Updates/Medication Panel, Patrick Colman M.D. and Keith Korver, M.D. were included in a panel Update on TAVR, and Skin Lesions was presented by Jeffrey Sugarman, M.D.
Additional topics of presentations include;

Jack Boyd, M.D. – Current State of Robotics in Healthcare
Avinash Ramchandani, F.A.A.M.R., MD – The Opioid Conundrum – Angst, Anxiety and Answers
Elizabeth Tito, M.D. – How should you screen for breast cancer?
Ramzi Deelk, M.D., Sanjay Dhar, M.D., & Atoosa Molanazadeh, PA – Update on TAVR
Gerrard Ferrer, D.O. and Christopher Walker, D.O. – Concussions and Sports Medicine
Ian Anderson, M.D. – Lung Cancer Update – Screening
Complete episodes of these timely lectures are available online beginning in April via NCMA's YouTube Channel where viewings are free and completely open to the public. The NCMA's YouTube channel can be found at youtube.com/NCMAhealth. This educational program is provided by Northern California Medical Associates and St. Joseph Health –Santa Rosa Memorial.
About NCMA Healthcare
At Northern California Medical Associates (NCMA), innovative medicine and patient care is more than just a profession; it's a calling. As one of the leading medical associations in the North Bay, NCMA takes pride in offering a highly diversified, professional staff and comprehensive health services to patients. No matter the level of medical expertise a patient may require, the professionals at NCMA will deliver expert care with respect and compassion. For more information visit the NCMA website.