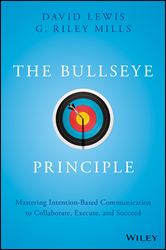 "Filled with useful stories and practical tools and tips, The Bullseye Principle is a must-read for anyone wanting to be a more confident and compelling communicator." -- Ken Blanchard, coauthor of The New One Minute Manager® and coeditor of Servant Leadership in Action
CHICAGO (PRWEB) March 28, 2018
The Bullseye Principle is the definitive how-to guide for communicating, collaborating, and executing as a leader in the corporate arena. With "soft skills" trending above technical knowledge in executive wish lists, this book provides invaluable guidance, critical insight, and actionable communication skills tips, based on award-winning methods, for new and experienced leaders alike.
The ability to communicate with purpose and clarity and purpose is the key to personal and professional success. Effective communication is not something that happens easily though. Without a firm grasp of the elements needed to be a good communicator, there is no guarantee it will happen at all. This book shows you everything you need to know to start communicating more effectively, starting today.
The success of any communication rests more on how the information is conveyed versus what that information actually is. It all comes down to delivery. The same set of tools actors have used for centuries to appear more confident, credible and captivating apply to someone in the corporate arena.
Polish your presence, use intention, influence emotion, engage workers, build relationships, make connections, and leverage the power of storytelling. Effective leaders strive to master key skills to inspire, empower, motivate, and more, at every level, in every sphere.
This book gives you a solid blueprint for effective communication in nearly any business situation, merging the practical and theoretical to help you:

Master the most challenging business interactions
Become more persuasive as a leader and communicator
Adopt a 3-step methodology to influence more effectively
Build your personal brand and executive presence toward sustained success
Read The Bullseye Principle sequentially or in a modular way. Read the first chapter to understand the 3-step process for influential communication and the concepts of intention and objective and then jump to specific chapters in any order.
Communication in the corporate arena needs to be better for teams and organizations to thrive. In business, everyone has a role to play and an audience to influence. The role or topic of discussion does not matter. If a message does hit its intended bullseye, communication will fall short of the mark.
"Mills and Lewis have taken techniques frequently taught to actors and developed them into simple and effective methods of communication in the business world. Michael Scott should read The Bullseye Principle!"--Jenna Fischer, Emmy-nominated star of The Office and author of The Actors Life: A Survival Guide.