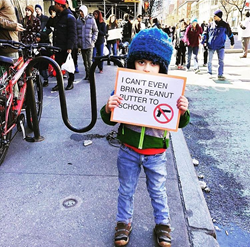 (PRWEB) March 28, 2018
Several trends are visible as the data is analyzed. These include:
Activism On-The-Go - An overwhelming 80% of all the tweets came through mobile devices. Not surprising since the marchers were in the streets of numerous cities throughout the US.
Star-Powered Instagram Posts - Some of the posts with the most reach on Instagram were from celebrities like Kim Kardashian, Miley Cyrus, and Jennifer Lopez.
Images and Media Attached - Over 27% of the original tweets shared included media images. Many of them are signs being held by the participants, or of speakers at various locations.
Some of these top images are of children holding signs they created or brought to the march such as https://pbs.twimg.com/media/DZEaN4UXcAACqvh.jpg and others.
Veterans Joined In - 32% of the tweets included additional hashtags in them, and of those two of the top hashtags, #veteransforgunreform and #vetsforgunreform show that this march reached across demographics.
Voices in the Movement - Two names also made the top list of other hashtags, #EmmaGonzalez and #NaomiWadler proving that some of the most influential voices in the #MarchforourLives are the youngest.
As hashtag news and trends continue to come in around gun control and the political activism of our nation's youth, Hashtracking will be keeping tabs on and offering free access to the report via their #MarchforOurLives data report. Hashtracking will also provide full hashtag analytics for specific hashtags to qualified media on a per request basis.
About Hashtracking, Inc.: Hashtracking, Inc. provides real-time hashtag tracking and intelligence that give subscribers instant access to actionable data, helping them to run more successful campaigns and gain greater insight into customer conversations. Hashtracking, Inc. provides full-featured drill down reports, which supply powerful hashtag insight, including detailed contributor lists, influencer data and complete, searchable/filterable transcripts. Hashtracking, Inc. reports and graphics can be exported for use on websites and in presentations and/or shared on social media. For non-subscribers, Hashtracking, Inc. offers a Free Explorer tool which provides a quick and easy way for anyone to get a snapshot of recent hashtag activity.
For more information, visit http://www.hashtracking.com.
Contact: Ciaran Blumenfeld, ciaran(at)hashtracking(dot)com, 601-460-4274
SOURCE Hashtracking, Inc.