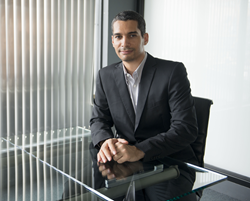 Today there are billions of dollars being thrown at cryptocurrencies that offer a little more than a whitepaper and a smile
HONG KONG (PRWEB) April 02, 2018
Antoine Sorel Neron, creator of the first Initial Coin Offering (ICO), today unveiled Goodomy, a cryptocurrency that seeks to turn consumers into producers by making the benefits of its blockchain accessible and easy to use for the average person.
"After I launched the first ICO in 2014 there were a number of projects such as MaidSafe and Ethereum that added tremendous value to the cryptocurrency space," Antoine said. "Today there are billions of dollars being thrown at cryptocurrencies that offer a little more than a whitepaper and a smile. Not all are like this, of course, but the ICO was never meant to act as a business model."
ICOs were originally referred to as IPOCOs, or Initial Public Offerings for Coins, when Antoine announced Karmashares for the Karmacoin cryptocurrency on April 9, 2014. The ICO is an evolution of the token crowdsale – first held by MasterCoin in 2013 to raise funds for its developers. An ICO extends the function of a crowdsale to provide a right of ownership or royalties to a cryptocurrency project. According to Amy Wan, a partner at Trowbridge Sidoti LLP practicing crowdfunding and syndication law, "The coin in an ICO is a symbol of ownership interest in an enterprise—a digital stock certificate, if you will."
Citing new guidance from the SEC on digital currencies, Antoine ceased Karmashares operations just a few weeks after launching and returned all tokens to their respective parties. Since then, he has been formulating a new method that more closely aligns with SEC guidelines and allows users to participate in a cryptocurrency's economy and receive the bulk of its benefits.
"We wanted to make a system for anyone to use capitalism to make their life better," said Carolina Rueda, Goodomy's chief economist. "This is our 'good economy'. It could be using our OTOL platform to provide cryptocurrency incentives for someone to paint your house, or our Shopomy app to get 50% off your grocery bill."
OTOL, Goodomy's 'internet of actions' initiative, will be a platform that helps to solve the basic human problem of not being able to get something done. It will leverage the wisdom and abilities of the crowd to get help with something, perform actions, complete complex tasks, and more.
Goodomy's flagship product, Shopomy, is an app that makes it easier for people to buy the things they want or need, and makes it easier for business owners to increase their liquidity by offering cryptocurrency incentives to their customers.
Shopomy will launch May 24, 2018.