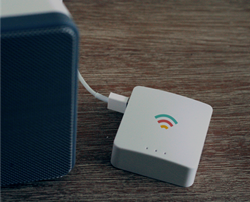 The K-12 safety market is fragmented, with many products that suffer from lack of unifying synergies & brand trust, and huge distribution costs. The Hub avoids these challenges by being managed by a single app, and trusted & distributed by schools. - Vinay Mahadik, co-founder/CEO of Securly.
SAN JOSE, Calif. (PRWEB) March 27, 2018
Since its inception in 2013, Securly has been a pure-play security company focused on the mission of keeping kids safe online, both in schools and at home. For schools, Securly's portfolio today has Filter, Auditor, Tipline, and 24 as the four products and services that keep the school networks and campuses safe from adult online content, and from incidents of bullying, self-harm, violence, abuse, and predation or solicitation. For the parents of these schools, so far, Securly pioneered and patented its parental integration technology that brings parental controls to school-issued devices.
Securly had debuted the Plug n' Play Hub back in 2016 at the Consumer Electronics Show, and within a few days received hundreds of orders from parents around the world. This immediately surfaced the product and logistics challenge of supporting parents unrelated to its schools, and shipping to geographies outside of the United States.
With today's announcement, Securly is relaunching the Hub after two years of refining the strategy and product. The Hub will focus on families served by Securly's customer schools, and will give the parents a unified experience across the school-issued devices and personal devices at home. Parents, such as the hundreds of thousands using Securly's parent portal today, will use a single app to manage parental controls across these devices, use their school's existing filtering policies as a starting point, benefit from in-app emergency notifications from the school, and in general have their kids be inside the same walled garden schools have created, but now extended to their kids' personal devices even outside the school.
The Hub is available immediately - however, parents are notified by their schools as Securly rolls it out across its free and paid customer base.