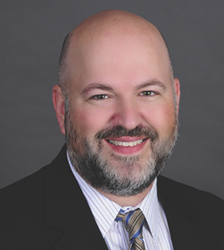 When I learned how Surgent's adaptive technology works, I leapt at the chance to help educate the market about it.
DEVON, Pa. (PRWEB) March 29, 2018
Surgent CPA Review is pleased to announce that Ray Ruiz has joined the company in a newly created Director of Market Development position for the southeastern states. In this role, Ray will apply his more than 20 years in talent acquisition to build Surgent's presence, grow relationships, and drive CPA Review business in the southeast. He will oversee all business relationships and operations in the region, providing innovative e-learning solutions to accounting and finance students, faculty, and professionals.
Surgent has quickly become a major player in the Exam Prep market, having invested millions of dollars in its proprietary adaptive technology over the past several years. In parallel, Surgent has been expanding its team to help foster even more rapid awareness and growth. Ray's extensive Big Four firm experience, as well as his talent acquisition and business development experience at Northrop Grumman and Monster Worldwide, provides an ideal foundation for this important role. Elizabeth Kolar, Executive Vice President of Surgent CPA Review, explained: "Ray Ruiz has extensive and proven skills in talent acquisition, business development, and networking. From his time at KPMG, he deeply understands the mindset of both accounting firm leaders and new associates who are starting to prep for the CPA Exam. This makes Ray the perfect person to lead the charge for us in these markets."
Ray added, "When I learned how Surgent's adaptive technology works, I leapt at the chance to help educate the market about it. Top accounting firms are hiring the best and brightest accounting and finance students, who have just learned much of the content tested on the exam. Surgent's course is the only one on the market that actually uses these students' knowledge to their advantage. The technology assesses them, figures out what they know, then customizes their study plans to skip what the students already know and focus their very limited study hours where they actually need the help. It's a no brainer, in my mind, both for the students and the firms that employ them."
About Surgent CPA Review
While Surgent CPA Review is a young company, its founders are no strangers to the accounting or education spaces. The Exam Prep division was born out of Surgent, a 30-year leader in tax, accounting, and finance professional education. Since Surgent CPA Review's launch in August of 2015, the company has quickly become the fastest-growing exam review course in the industry. Its trademark A.S.A.P Technology delivers an algorithmic-based adaptive learning experience that is targeted to an individual's unique areas of need. Surgent students save up to 400 hours of study time, and achieve pass rates that are nearly double the national average. In addition to CPA Exam prep, Surgent's A.S.A.P. Technology now powers courses for the Enrolled Agent (EA), Certified Management Accountant (CMA), Certified Internal Auditor (CIA), and Certified Information Systems Auditor (CISA) designations. Learn more at http://www.surgentcpareview.com