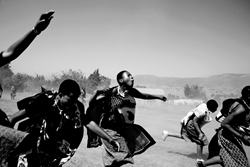 The student grant was created to encourage students to utilize the photographic medium as a form of humanistic observation and social activism.
NEW YORK (PRWEB) March 28, 2018
The W. Eugene Smith Fund has announced it is establishing an annual Student Grant in photography. Open to all collegiate-level students (any student registered for a full time degree, diploma or certificate program is eligible, on both undergraduate and graduate levels) in any field of study, the new grant encourages students to share photographs which promote social change, embrace new image-sharing technologies, and seeks to integrate the tradition of photography and social change with contemporary practice.
The annual $4,000 Grant can be used by the recipient to complete a work-in-progress. Students can apply online at SmithFund.org/StudentGrant through May 31, 2018. Applicants will be required to pay a $1.00 fee (U.S.) and include a copy of their student ID card to qualify.
"The Smith Fund is truly excited to add a new student grant for outstanding documentary photography in the name of W. Eugene Smith," explains Lauren Wendle, president of the Smith Fund. "The grant provides a special category for collegiate-level students to submit their documentary photography and tell their stories."
"The student grant was created to encourage students to utilize the photographic medium as a form of humanistic observation and social activism," explains Stephen Frailey, Chair of the BFA Photography and Video Department at SVA in New York City, and Smith Fund board member who initiated the Student Grant. "In our self-absorbed culture, it is particularly important to renew the commitment to foster cultural dialogue through photography, and to embrace new technologies, image dissemination, and protocols borrowed from other aspects of our visual culture."
Now in its 39th year, W. Eugene Smith Fund's annual Grant in Humanistic Photography has awarded over one million dollars to photographers who have demonstrated an exemplary commitment to documenting the human condition in the spirit of Smith's concern and compassion. In addition to the new Student Grant, The Smith Fund will present one recipient with a $35,000 grant, and separate Fellowship Awards will be dispersed at the discretion of the jury. Moreover, the annual Howard Chapnick Grant will honor an individual for his or her leadership in any field ancillary to photojournalism.
Photographers, students, and other industry professionals interested in submitting applications for the 2018 grants (or interested in learning more about the grants and fellowship), should visit SmithFund.org. The deadline for submitting applications to all grants is May 31, 2018.
All Smith Fund Grants and Fellowships will be presented at an annual ceremony at the School of Visual Arts (SVA) Theater in New York City on October 17, 2018. Attendance is free and open to the public.
The W. Eugene Smith Memorial Fund is supported by generous contributions from The Incite Project, Herb Ritts Foundation, Canon USA, and The Phillip and Edith Leonian Foundation. Additional support is provided by Aperture, Brilliant Graphics, Center for Creative Photography (CCP), the International Center of Photography, MediaStorm, Photo District News (PDN), the School of Visual Arts BFA Photography, MFA Photography, Video and Related Media Department, and Synergy Communications.