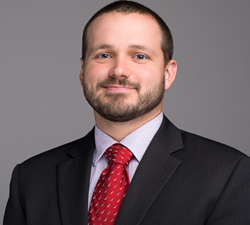 TALLAHASSEE, Fla. (PRWEB) March 27, 2018
Anthony Tilton of Cotney Construction Law, LLP was recently named General Counsel of the Tile Roofing Institute (TRI). As General Counsel, Tilton will provide key legal guidance on corporate structure & bylaws, board of director, operations, regulatory compliance, and governance policies.
"The Tile Roofing Institute is one of the leading experts in the roofing industry," said Anthony Tilton. "I'm grateful for this opportunity to work alongside some of the best in the industry and provide the necessary legal guidance to this association."
Tilton specializes in all aspects of construction law, and works primarily on matters relating to OSHA and licensing defense, specifically litigation and the appeals process for citations involving catastrophic construction or industry related accidents. Tilton also manages and develops safety and health strategies for construction contractors and industrial facilities across the United States.
"We are thrilled that Anthony will be working with the Tile Roofing Institute," said Trent Cotney, CEO of Cotney Construction Law, "This position further cements Cotney Construction Law as the leading expert in roofing law."
About Tile Roofing Institute
The Tile Roofing Institute (TRI) is a non-profit association of producers and associates of concrete and clay tile and is considered one of the leading experts in the industry. TRI has long been the industry's voice for code development and testing. Since it was founded more than 30 years ago, TRI has received nationwide recognition for its many contributions to tile roofing.
About Cotney Construction Law
Cotney Construction Law, LLP is a national construction law firm that advocates for the roofing industry. The firm serves as General Counsel to Florida Roofing and Sheet Metal Association (FRSA), Tennessee Association of Roofing Contractors (TARC), Roofing Technology Think Tank (RT3), National Women in Roofing (NWIR), and a number of local roofing associations. Cotney Construction Law's practice areas include construction law, litigation, arbitration, contract review & drafting, immigration, employment, OSHA defense, licensing defense, bid protests, lien law, bond law and alternative dispute resolution. The firm has offices throughout Florida, as well as locations in Nashville, Houston, Grand Rapids, and Mobile, Alabama. For more information, visit http://www.cotneycl.com.