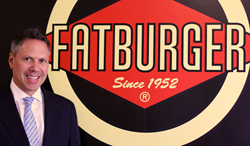 They'll offer tips and advice on how to flourish even in this unsteady business climate.
LOUISVILLE, Ky. (PRWEB) March 29, 2018
Sales of the UK's top 100 restaurant groups declined by 64 percent over the past year, according to a report from UHY Hacker Young, but execs from around the world will tackle those failures during the second annual Restaurant Franchising and Innovation Summit, 16-18 July in London.
"The Summit features panels, keynotes and discussions with some of the industry's most successful leaders," said Cherryh Cansler, director of editorial for Networld Media Group, the company producing the Summit and publisher of FastCasual, QSRWeb, PizzaMarketplace and Food Truck Operator. "They'll offer tips and advice on how to flourish even in this unsteady business climate."
An oversaturated market and an upcoming minimum wage increase have hit many restaurants, which are also competing with fast casual restaurants and rising food costs, according to the UHY report. That combination has sent 35 of the UK's restaurant groups into the loss-making category — a 75 increase over last year, Peter Kubik, a partner at UHY Hacker Young, wrote in his report.
"The restaurant industry has grown ahead of demand in recent years and is now going through a necessary period of consolidation and restructuring to remove excess capacity," he said. "The industry's woes should be temporary while it deals with this process, as long as consumer confidence can be maintained."
Consumers, however, only have a finite amount of spending power when it comes to eating out, and the oversaturation of the market means that the brands that don't embrace the changing trends will fail, Kubik said.
"The Summit will teach attendees what it takes to keep old customers coming back while attracting new ones even in this oversaturated market," Cansler said.
Andy Wiederhorn, CEO of FAT Brands, will deliver the opening keynote, titled "Making a Killer Comeback."
Other speakers, include the CEOs and/or other execs from:

Leon
Kotipizza Group
New York Pizza
Rocket Restaurants
Farmstand
The Avocado Show
Euromonitor International
Firenza
Boparan Restaurant Group
B. Good
FRIENDS & BRGRS
Session topics include how to master the new trends in delivery, cutting the costs of doing business, global franchising, menu trends, tech innovation, restaurant design tips and how to attract millennial and Gen Z customers.
Register here for the 2018 Restaurant Franchising and Innovation Summit. Early Bird registration is in effect until 20 April 2018.
About Networld Media Group
Founded in 2000, Networld Media Group is a leading business-to-business (B2B) global media communications company specializing in digital media, associations and events in the mobile, self-service, digital signage, retail, food service and financial services industries. Online properties include ATMmarketplace.com, BlockchainTechNews.com, DigitalSignageToday.com, FastCasual.com, FoodTruckOperator.com, KioskMarketplace.com, MobilePaymentsToday.com, PizzaMarketplace.com, QSRweb.com, RetailCustomerExperience.com and BiblicalLeadership.com. Networld event properties include the Fast Casual Executive Summit, CONNECT: The Mobile CX Summit, Interactive Customer Experience Summit, Bank Customer Experience Summit and the Restaurant Franchising & Innovation Summit. Networld also operates the ICX Association. Its newest offering, Networld Press, provides clients with an all-in-one website solution featuring custom website design and ongoing editorial, content strategy and website updates.