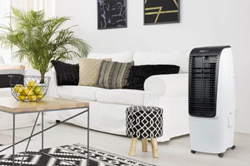 "We know that there's an enormous interest in evaporative cooling as a way to save money and be more environmentally friendly," said Andrew Stephenson, Director of Product Marketing at NewAir Appliances
CYPRESS, Calif. (PRWEB) March 28, 2018
NewAir Appliances has launched a new portable evaporative cooler and tower fan that allows users to customize the output for their cooling needs. With the NewAir EC300W, residents of arid/dry climates can fill the reservoir with water and use the appliance as a full-time evaporative cooler. Consumers living in an area with fluctuating humidity levels can experiment with evaporative cooling on dry days or select the fan-only mode at the flip of a switch.
"We know that there's an enormous interest in evaporative cooling as a way to save money and be more environmentally friendly," said Andrew Stephenson, Director of Product Marketing at NewAir Appliances. "However, not everyone lives in the desert, where evaporative cooling works best. This new evaporative cooler allows users everywhere to enjoy a really powerful fan and give evaporative cooling a chance where and when it makes the most sense for them."
The NewAir EC300W cools up to 640 square feet of space, indoors or out. The evaporative cooling function works by soaking a super-absorbent pad in water and blowing air across it to trigger evaporation. This function is highly effective in locations with low relative humidity. For humid days and climates, users can raise the cooling pad and rely on the tower fan alone, which has four speeds for customizable cooling.
The NewAir EC300W also features a large, five-gallon water tank for convenience and an oscillating fan feature to cool large swaths of indoor or outdoor space. "We hope that the two-in-one design encourages more people to give evaporative cooling a try, since they'll still be able to enjoy a good breeze even without the evaporative cooling function in place," said Stephenson.
To learn more about evaporative cooling and the technology behind it, visit the NewAir blog at http://www.newair.com/kb/evaporative-cooler-humidity-chart/.
About NewAir Appliances
California-based NewAir Appliances is a family-owned manufacturer and distributor of luxury compact home appliances, including everything from beverage coolers to portable laundry solutions. Its wide range of products is carried by the largest retailers in North America, and NewAir is dedicated to exceptional customer service at its responsive in-house call center. NewAir's focus on value and quality over the past 15 years makes the company one of the most trusted names in home appliances. See all of NewAir's products at http://www.newair.com.
Follow NewAir Appliances on Facebook
Tweet us @NewAirUSA
Follow us on Instagram @NewAirUSA
Watch us on YouTube @NewAirUSA
Media Contact: Andrew Stephenson, Director, Product Marketing
Email: press(at)NewAir.com
Tel.: (657) 257-4326
Website: http://www.newair.com