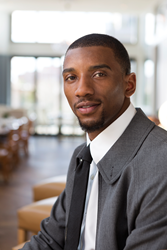 SALT LAKE CITY (PRWEB) March 30, 2018
New England Patriots wide receiver and award-winning children's book author Malcolm J. Mitchell will give the keynote speech during Salt Lake Community College's 2018 commencement ceremony May 4.
Mitchell is well known for his role as wide receiver on the New England Patriots and helping the team win a Super Bowl in 2017. But in literary circles, particularly among young readers, he's been receiving a lot of attention off the playing field. While a student athlete at the University of Georgia, Mitchell was recognized as the National Captain of the Allstate Good Works Team for his frequent visits to elementary schools to read to students and talk about literacy, the first student ever at UGA to win this honor. He also received the National Haier Achievement Award for his success beyond athletics.
During his freshman year in college, Mitchell developed a love of reading. Initially, reading was a challenge. Through perseverance, books became an avenue for expanding his curiosity, creativity and learning. In 2015, the year he graduated from UGA, he authored and published a children's book, The Magician's Hat. Mitchell received a coveted invitation to the Savannah Book Festival, a rare achievement for a first-time self-published author. His book became the highest selling book in the history of the UGA Bookstore, and in 2016, the same year he was drafted by the Patriots, he was named Children's Author of the Year by the Georgia Writers Association. His inspirational story has been featured nationally on CBS Evening News, CBS Sunday Morning, CBS Sports, ESPN, USA Today, CNN, MSNBC and the NFL Network and has been used by many schools as encouragement for students to embrace the importance of reading. His commitment to literacy and book ownership resulted in him being recognized in 2016 by the Page Turners Make Great Learners Foundation.
Salt Lake Community College is an accredited, student-focused, comprehensive community college meeting the diverse needs of the Salt Lake community. Home to more than 60,000 students each year, the College is Utah's leading provider of workforce development programs. SLCC is also the largest supplier of transfer students to Utah's four-year institutions and a perennial Top 10 college nationally for total associate degrees awarded. The College is the sole provider of applied technology courses in the Salt Lake area, with multiple locations, an eCampus, and nearly 1,000 continuing education sites located throughout the Salt Lake Valley. Personal attention from an excellent faculty is paramount at the College, which maintains an average class size of 20.