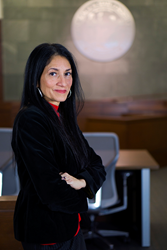 DURHAM, N.C. (PRWEB) March 29, 2018
James Scott Farrin personal injury attorney Anabel Rosa recently accepted the Triangle Business Journal's Women in Business award.
Rosa, a firm shareholder, has practiced law for over 20 years. A Puerto Rican native, much of her work on and off the job involves helping the Hispanic/Latino community.
Having appeared on El Centro Hispano, Univision 40, WRAL, and quoted in Spanish publications, Rosa has often been sought by the Hispanic media for her views on issues related to this community.
She serves as chair to the City of Durham Mayor's Hispanic/Latino Committee, and has helped organize pro bono immigration clinics.
As a task force member of the North Carolina Advocates for Justice (NCAJ) Diversity Committee, she has been a driving force of NCAJ's immigration division and efforts to help Hispanics and Latinos update legal documents pro bono. She has taken on various leadership roles with the NCAJ's Hispanic/Latino Division, including executive secretary, chair, and division chair. For these efforts and more, Rosa received the NCAJ Order of Service award for their Hispanic/Latino Affairs Division.
Rosa has participated in the Partnership for a Healthy Durham, a collaborative network of healthcare professionals who promote health options throughout the Hispanic/Latino community. She is a friend and supporter of REALDurham, an anti-poverty program targeting East Durham, which has a large Hispanic/Latino population.
ABOUT THE LAW OFFICES OF JAMES SCOTT FARRIN
The Law Offices of James Scott Farrin is headquartered in the American Tobacco Historic District, adjacent to the Durham Bulls Athletic Park, in Durham, North Carolina, with 13 additional offices statewide in Charlotte, Fayetteville, Greensboro, Greenville, Goldsboro, Henderson, New Bern, Raleigh, Roanoke Rapids, Rocky Mount, Sanford, Wilson, and Winston-Salem. The firm's 46 attorneys focus on the following practice areas: Personal Injury, Workers' Compensation, Social Security Disability, Eminent Domain, Whistleblower, Civil Rights, Mass Torts, and Products Liability. Six of the attorneys are North Carolina Board Certified Specialists in Workers' Compensation Law and one is a North Carolina Board Certified Specialist in Social Security Disability Law. The Law Offices of James Scott Farrin is involved in the community, including sponsorship of local philanthropic organizations.
Contact Information:
David Chamberlin
280 S. Mangum Street, Suite 400
Durham, NC 27701
866-900-7078
http://www.farrin.com