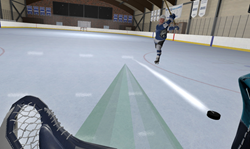 NetStars is an innovative way to allow goalies to work on goaltending specific skills and muscle memory in a fun way. They have created a cool skill progression series as well as practice situations that we believe will translate to the game. - Phil Osaer, USA Hockey
MINNEAPOLIS (PRWEB) March 30, 2018
Experience an unmatched level of realism as you step in front of a 100mph slap shot, dive to defend a tip-in or steal a glove-high save.
Whether you just want to experience the excitement of tending goal or you're an aspiring goalie who wants to make the most of his or her off-ice training – NetStars has an immersive experience guaranteed to deliver results.
More than just a game, NetStars has been developed as a training tool for goalies to teach proper goaltending techniques.
NetStars measures fundamentals by tracking and scoring the entire play cycle – including shot setup, shot reaction and follow-through after the save. The result is a skills-based scoring game that facilitates and rewards best practices through real-time performance indicators and a realistic, fast-paced play setting.
"NetStars is an innovative way to allow goalies to work on goaltending specific skills and muscle memory in a fun way. They have created a cool skill progression series as well as practice situations that we believe will translate to the game,"
– Phil Osaer, USA Hockey ADM Manager, Goaltending.
Launching today on Steam– NetStars aims to become the best way for goalies to promote best practice off ice.
Feel the thrill of being a goalie – Catch, stop and block shots in an immersive, exciting and fun VR goalie game.
Progressive Scoring System – Perfect your fundamentals – including angle alignment, depth positioning, save location, reaction quickness, rebound and recovery.
Realtime Visual Indicators – Benefit from on-ice reinforcement of best practices and key fundamentals.
3D Motion-Capture – Immerse yourself in true-to-life puck physics and skater animation combined with AI-based plays.
From Pond to Pro – Play a wide variety of practice drills, rink environments and player types.
Drill Data – Understand where your goalie game is strong and where you still need work.
Full Body Tracking – Bring your legs into play with the addition of HTC Vive Trackers.