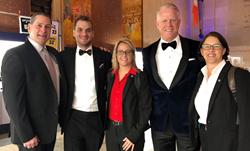 PARSIPPANY, N.J. (PRWEB) April 03, 2018
SOS Security LLC, the nation's fifth largest privately-owned security company, is pleased to announce a partnership with B2B Network, a licensed provider of Under Armour products, to provide a Company Store for its employees and support a good cause.
The store provides SOS Security's growing and national workforce access to high-quality company-branded merchandise. Employees receive a 20 percent discount on all products purchased through the store, and Under Armour donates 5 percent of each sale to the Boomer Esiason Foundation, a group dedicated to raise money, awareness, and support for the cystic fibrosis community.
SOS Security is proud to support the Boomer Esiason Foundation and join the many corporate partners supporting cause marketing programs to raise tens of millions of dollars each year.
About SOS Security
Founded in 1969, SOS Security is one of the largest privately-owned security companies in the U.S. with more than 10,000 security professionals working domestically and around the world through foreign regional joint ventures and strategic partnerships. A proven leader in the Security and Protective Services Industry, SOS Security is headquartered in Parsippany, NJ and has offices throughout the United States and resources servicing over 80 countries.
SOS Security's business lines include Executive/Close Protection (through subsidiary AS Solution) for Fortune 1000 corporate executives and high-profile individuals around the world; Investigative, Management and Consulting Services; as well as Fire/ Life Safety Services. In addition, SOS Security provides highly qualified and trained security officers for clients in various industries such as: Technology/Communications; Government; Embassies and Consulates; Public Utilities; Education Facilities/Campus Security; Hospitality/Leisure/Hotels, Retail/Shopping Centers; Media/Entertainment; Commercial/ Residential Real Estate; Pharmaceutical/Healthcare/Hospitals; Manufacturing/Warehouse/Distribution; and Financial/Banking.
Learn more about SOS Security's capabilities and careers at http://www.sossecurity.com.