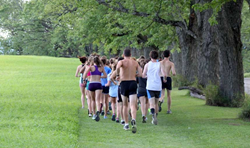 Coaches who attend his camp can expect to learn a great deal on how to coach their athletes.
SAN RAFAEL, Calif. (PRWEB) April 03, 2018
Every summer thousands of campers attend Nike US Sports Camps to advance their skills in their respective sports. However, the knowledge and insight gained from the experiences at camp don't stop when you graduate high school. Camps such as Nike Green Mountain Running Camp offers XC Coaches Workshop providing tools for coaches to ensure that they best prepare their athletes for competition.
"Mike Cohen's boasts an unbelievable running resume. Coaches who attend his camp can expect to learn a great deal on how to coach their athletes," says Jan O'Connor Executive Vice President of US Sports Camps. Cohen has 38 years of coaching male and female high school athletes in cross country running, cross country skiing and both indoor and outdoor track and field. Additionally, he has worked with several adult clients coaching distances to the ultra-marathon.
Cohen utilizes the science of Effort Based Training (EBT) to help coaches get the best performance out of their athletes. "You can use pace, pulse rate, or perceived exertion/effort to accommodate for the differences in your athletes' inherent abilities and training ages. This allows for maximum benefit during their workouts without increasing their potential for injury or overuse problems," says Cohen. Topics at the camp also include, goal setting and motivation, injury prevention sports nutrition, meet-day protocol, racing strategies, bio-mechanics, team dynamics, and much more.
Those interested in Green Mountain Coaches Workshop can register at http://www.ussportscamps.com/running or call 1-800-645-3226.
About US Sports Camps
US Sports Camps (USSC), headquartered in San Rafael, California, is America's largest sports camp network and the licensed operator of Nike Sports Camps. The company has offered summer camps since 1975 with the same mission that defines it today: to shape a lifelong enjoyment of athletics through high quality sports education and skill enhancement.