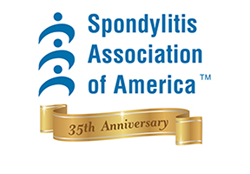 Roughly one in every 100 people in the U.S. has spondyloarthritis.
VAN NUYS, Calif. (PRWEB) April 02, 2018
April is Spondyloarthritis (SpA) Awareness Month. Every April since 2009, the Spondylitis Association of America (SAA) observes the month as part of its ongoing efforts to draw national attention to a potentially debilitating disease that is often undiagnosed or misdiagnosed. The goal is to help emphasize the need for recognizing the symptoms of spondylitis for proper diagnosis, fund research for a cure, and support programs that educate and empower individuals impacted by the chronic illness.
Roughly one in every 100 people in the U.S. has spondyloarthritis, the name given to a group of closely related rheumatic diseases that primarily affect the spine (spondylo) and other joints. Common symptoms of spondyloarthritis include inflammatory back pain, as well as pain and inflammation in the pelvis, neck, intestine, eyes, heels, and various larger joints. Spondyloarthritis includes ankylosing spondylitis, psoriatic arthritis, reactive arthritis, enteropathic arthritis, juvenile spondyloarthritis, and undifferentiated spondyloarthritis. Although the disease is relatively unknown by many within the general population, it affects more people than Rheumatoid Arthritis, MS, and ALS combined.
Because some segments within the front line medical community also remain unaware of the disease and its symptoms, nearly 54 percent of patients go undiagnosed between seven and 10 years. "Axial spondyloarthritis and the related conditions have very few visible clinical signs on exams and is hidden in the larger population of back pain sufferers," stated Dr. David Hallegua, a rheumatologist and SAA Board Member.
Currently, there is no cure for the disease. Therefore, early detection is critical for beginning an effective treatment plan, which should include medication, exercise, physical therapy, and good posture practices, to achieve better outcomes and a higher quality of life. Delays in diagnosis lead to delays in treatment and allow the disease to progress and cause possible fusion of the bones within the spine, neck, or hips. In severe cases where the spine has fused in a hunched or slouched position, posture correction may require surgery.
"The staff and the Board of Directors of the SAA are working to shine a light and identify those affected with axial spondyloarthritis by supporting clinical research in early detection and effective therapy," added Dr. Hallegua.
During the month of April, the SAA initiates a series of activities to drive awareness of spondyloarthritis by engaging both the general public and medical community. The 2018 multi-channel campaign includes a toolkit for constituents to request official Proclamations of April as SpA Awareness Month by their Mayor and a pledge to distribute key messages through social media. This year's initiative will also feature Out-of-home advertisements donated by Clear Channel Advertising, and 'This AS Life Live!' videos featuring Imagine Dragons' Dan Reynolds who publicly revealed in 2017 that he also lives with the disease. Key messaging for this year includes educating the front line medical community on recognizing the symptoms and knowing when to refer to rheumatology; emphasizing that the disease is not restricted to only certain ethnicities or genders; the importance of funding research; and empowerment for those who are living with the disease. The toolkit is available on the SAA's website, http://www.spondylitis.org.
Spondylitis Awareness Month was first championed in 2009 by Michael Smith, an SAA lifetime member, tireless patient advocate, and creator of the beloved Spondyville website. Mr. Smith was hugely instrumental in spondylitis having its own month. Sadly, Mr. Smith passed away on December 6, 2016 at the age of 65, but his voice and advocacy efforts are still reflected and echoed within the annual awareness campaigns observed every year, and in the SpA community at large.
Join the conversation and help raise awareness by using the following hashtags: #thinkspondylitis; #spondywhat; and #spotspondy during Spondylitis Awareness Month.
About the Spondylitis Association of America
Since our founding in 1983, the Spondylitis Association of America has been the leading national nonprofit that provides educational resources, connections, and the critical emotional support that people living with spondylitis need. The SAA is committed to increasing awareness of spondylitis, providing information and support to patients and their families, and funding research to ultimately uncover a cure for the disease.
The SAA has a wealth of information, educational materials, and resources for medical practitioners, the newly diagnosed, those who are seeking a proper diagnosis, and those who have already been diagnosed and living with the disease.