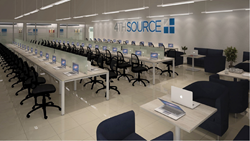 To meet the 2018 industry demands in healthcare, we are implementing industry-leading capabilities, to support our partners in their IT missions
TAMPA, Fla. (PRWEB) March 29, 2018
4th Source, a leader in nearshore software development and IT services, announced today that it is investing in additional IT Centers of Excellence (COE) and office expansion to better support customers in healthcare.
These efforts include:

A BIOVIA Discoverant Center of Excellence
A Pegasystems Center of Excellence
The expansion of ServiceNow capabilities
Continuous improvement training and office expansions
"To meet the 2018 industry demands in healthcare, we are implementing industry-leading capabilities, to support our partners in their IT missions," says Chris Desautelle, 4th Source President, and Chief Financial Officer.
4th Source is providing continuous improvement training by adding its capabilities in BIOVIA Discoverant, the process manufacturing tool used to develop quality biotechnology pharmaceuticals.
In addition, following that Pega is a driving force of transformation in many industries, 4th is investing in a Pega Center of Excellence to help customers modernize pharmaceutical distribution systems.
"4th Source team's skills continue to grow in Pegasystems healthcare framework technology that improves the quality, speed, and timelines of life-saving pharmaceutical deliveries," Desautelle explains.
The company is also expanding ServiceNow capabilities to provide its partners with 24X7X365 service desk support and ITOM (IT operations management) solutions. ITOM is key when connecting ServiceNow to business operations and is a core component of successful implementations.
Beyond these IT capabilities, the company is further Investing in U.S. and Mexico facilities expansion by:
Opening a Memphis client services center
Expanding its offices in Merida, MX
Opening a second location in Mexico City, MX
Expanding its offices in Colima, MX
The journey to any IT agenda is often disrupted by the challenge of meeting new customer demand, being responsive, and keeping pace with technological advances. Adaptation is key, and 4th Source is excited to showcase these healthcare IT initiatives.
ABOUT 4TH SOURCE
4th Source provides powerful, cost-effective IT services as an alternative to offshore outsourcing. Headquartered in Tampa, FL, 4th Source employs over 500 people in the US and Mexico, and helps performance-driven businesses become digital strong with IT services, business process services, data services, and application development.
The hybrid nearshore-onshore model offers convenient proximity, similar time zones, efficiency gains, and significant cost savings. Inc. Magazine has recognized 4th Source as one of the fastest growing companies in the U.S. six times.