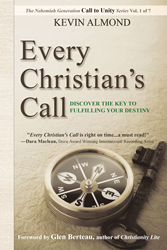 FORT WORTH, Texas (PRWEB) April 02, 2018
A Texas-based writer, Bible teacher and conference speaker has released his clear and concise guide to the critical role unity plays in bolstering believers' relationships with God.
In "Every Christin's Call: Discover the Key to Fulfilling Your Destiny," author Kevin Almond presents Christians with a biblically based path to fulfilling the unique purpose and destiny God has specifically designed for them.
"Through this book, I hope to bring Christians to an awareness of what the true biblical meaning of unity in Christ is and aid them in understanding that the biblical principles of unity are the same principles they must follow in order to achieve God's complete plan for their lives," Almond said.
"Kevin Almond has penned a much needed, last day exposition on the Scriptural meaning of unity for us to teach, share, and train the Church," Glen Berteau, pastor of The House Modesto, wrote of "Every Christian's Call" in its foreword.
A scripture-driven, easy-to-read roadmap to spiritual empowerment and growth, "Every Christian's Call" offers readers an accessible tool for building on their relationship with Jesus Christ and calls for all Christians to align their hearts with God's and unify in their walks with Him.
"Every Christian's Call: Discover the Key to Fulfilling Your Destiny"
By Kevin Almond
ISBN: 978-1-5127-9817-3 (hardback); 978-1-5127-9816-6 (paperback); 978-1-5127-9815-9 (electronic)
Available at the WestBow Press Online Bookstore, Barnes & Noble and Amazon
About the author
Kevin Almond is the president of Living Fire Youth Ministries International and has worked with diverse church denominations as well as national and international ministry leaders for more than 30 years. A graduate of the Embracing His Grace School of Ministry, Almond is a conference speaker, Bible teacher and author of eight books, including a youth ministry manual, and is also passionate about helping the body of Christ come together in unity. He currently resides in Fort Worth, Texas, with his wife of 35 years and their son. To learn more, please visit http://www.thenehemiahgeneration.com or follow the author on Twitter, Facebook and Instagram.
###
Review Copies & Interview Requests:
LAVIDGE – Phoenix
480-648-7557
dgrobmeier(at)lavidge(dot)com
General Inquiries:
LAVIDGE – Phoenix
480-998-2600 x 584
mdriver(at)lavidge(dot)com