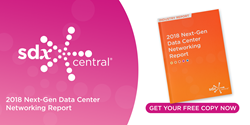 Even traditional networking companies are developing software management platforms and brite/white-box networking platforms to respond to the need for scale and software agility.
SAN FRANCISCO (PRWEB) April 03, 2018
SDxCentral.com announces the availability of a new report: The 2018 Next-Gen Data Center Networking Report.
Cloud computing, software-defined networking (SDN), and network virtualization have radically changed the way data centers are networked. Continued adoption of public and private clouds, coupled with business requirements for handling massive amounts of media data and big data analytics are driving new network architectures and approaches.
As cloud providers compete, they've driven down operational and capital expense through the use of white box solutions combined with open-source and open API software-based networking solution. Even traditional networking companies are developing software management platforms and brite/white-box networking platforms to respond to the need for scale and software agility.
The 2018 edition of our report examines new advances in data center networking, covering the role of SDN and Network Virtualization, intent-based networking, programmability and P4, white box and open hardware developments, advancements in networking at the large cloud providers such as FaceBook, Microsoft and Google, and new advances in network fabrics including PCIe switching. Other developments in key open-source organizations such as Open Compute Project (OCP) and Linux Foundation are also examined for their impact and contribution to data center networking.
The report includes results from a survey conducted by SDxCentral's research team with select members of the SDxCentral community. This report is complimentary and available for download at SDxCentral.com. Vendors who are interested in participating in future versions of this report or other reports published by SDxCentral.com can contact us at https://www.sdxcentral.com/inquiry/research/.
Report Table of Contents

Next-gen Data Centers Business and Technology Drivers
Changing Role of IT with Ramifications on Network Operations
Technology Landscape Implications on Data Center Network Design, Operations
Cloud Drives Next-gen Data Center Networking Changes
Next-gen Data Center Networking Trends and Evolution
Network Scalability and Performance
Virtualization and Containerization
Open Hardware's Role in Next-Gen Data Center
Software-Defined Networking (SDN), Network Automation and Network Programmability
SDN Controllers in Next-gen Data Center Networking
Programmability Beyond SDN
Intent-Based Networking – The New "Hot" in Networking?
Network Monitoring and Security
Hybrid Cloud and Edge Computing
Relevant Standards and Industry Initiatives for Next-gen Data Center Networking
OCP (Open Compute Project) and TIP (Telecom Infra Project)
Big Switch, Canonical, Cumulus
FaceBook
Microsoft Azure
Google
Linux Foundation
Next Generation Data Center Networking Survey
Data Center Networking Technologies Today
Looking Ahead in Next-gen Data Center Networking
Next-gen Data Center Networking Report Products
Covered Companies and Organizations
A10 Networks, Accton Technology, Apstra, Arista Networks, Barefoot Networks, Big Switch Networks, Ciena, Cisco, Cumulus Networks, Dell EMC, Ericsson, Extreme Networks, Hewlett Packard Enterprise, Huawei, Inocybe Technologies, IP Infusion, Juniper Networks, Lenovo, Mellanox Technologies, Netronome, Nokia, Nuage Networks, Open Compute Project (OCP), OpenCryptoTrust (OpenCT), Plexxi, Pluribus Networks, Pulse Secure, QCT (Quanta Cloud Technology), Radisys, Red Hat, VMware, Wind River, and ZTE Corporation.
About SDxCentral
Launched in 2012, SDxCentral.com is the fastest-growing and leading B2B digital media company for Cloud, Enterprise, and Telecom IT Infrastructure. SDxCentral serves an audience of over 200,000 unique monthly audience members generating over half-a-million page views a month. The site provides cutting-edge coverage of software-defined infrastructure including 5G, IoT, Edge Computing, SDN, NFV, Cloud, Containers, Security and AI/Machine Learning and connects technology buyers with its clients in the most effective way. SDxCentral's client list reads like the who's who of technology infrastructure, ranging from leading Fortune 50 companies to rapidly growing startups looking to revolutionize software infrastructure.