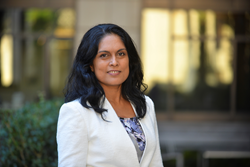 Professor Srikantiah's dedication to social justice exemplifies one of the core values of Mills. Her mission to serve as a voice for immigrants' rights, especially in our current social climate, will provide an inspiring example to our students.
OAKLAND, Calif. (PRWEB) April 11, 2018
Mills College will celebrate its 130th Commencement on Saturday, May 12, 2018, with an address given by Jayashri Srikantiah, a passionate immigrants' rights advocate, attorney, and professor. Additionally, Mills is proud to honor renowned actress Olivia de Havilland with the college's 2018 Honorary Doctorate of Humane Letters award.
Jayashri Srikantiah is the founding and current director of Stanford Law School's Immigrants' Rights Clinic. Professor Srikantiah has represented scores of immigrants facing removal from the United States, with a focus on representing immigrants with past criminal convictions. She has also conducted impact litigation, community outreach, public education, and policy advocacy in partnership with a range of immigration nonprofits.
"Professor Srikantiah's dedication to social justice exemplifies one of the core values of Mills," said Mills President Elizabeth L. Hillman. "Her mission to serve as a voice for immigrants' rights, especially in our current social climate, will provide an inspiring example to our students."
Immigrating to the United States from India when she was four years old, her family settled in the Bay Area where she grew up in an immigrant neighborhood in San Jose. Her personal experiences influenced her passion for immigrants' rights, and at a young age, it became clear that those within her very own community were being marginalized and were in desperate need of legal help.
Professor Srikantiah holds a Bachelor of Science degree from the University of California, Berkeley and a Juris Doctorate from New York University School of Law. She has previously served as the Associate Legal Director of the ACLU in Northern California, a staff attorney for the ACLU's Immigrants' Rights Project, and as a law clerk to Judge David R. Thompson on the US Court of Appeals for the Ninth Circuit.
Having joined the Stanford Law School faculty in 2004, she teaches the Immigrants' Rights Clinic, an immersive course designed to provide law students with the opportunity to serve the immigrant community in the Bay Area and beyond. Along with her students, she represents individual immigrants facing deportation and also conducts multi-modal advocacy to advance immigrants' rights.
She is a frequent speaker on various immigration topics, including comprehensive immigration reform, the constitutional rights of immigrants, and immigration detention. She is the recipient of California Lawyer's 2014 Attorney of the Year, SIREN's 2017 Legal Advocate of the Year, and the 2017 Carol Weiss King Award from the National Immigration Project of the National Lawyers Guild.
"As a young adult navigating my own professional calling, it took time for me to realize my need to be involved in public policy" said Professor Jayashri Srikantiah. "At Mills, students are inspired to take risks, seek action, and have a voice. I am deeply honored to have the opportunity to speak to these admirable graduates who will soon, if not already, have their own mission to influence social change."
As part of the Commencement ceremony, Mills College will award an Honorary Doctorate of Humane Letters to Olivia de Havilland, a celebrated actress who signed with Warner Brothers Studios in the mid-1930s. Long before the phrase "gender equality" had been coined, de Havilland was standing up for her rights and the rights of her colleagues. After taking Warner Brothers to court for not allowing her to play more complex roles, de Havilland won a significant court ruling providing greater creative freedom to performers.
De Havilland has lived in Paris for the past sixty years and will be 102 years old this year. Her daughter, Gisèle Galante Chulack, will be accepting the Honorary Doctorate on her behalf. This award is especially fitting for de Havilland, not only for her social activism, but because she always wanted to attend Mills College. In 1934, she applied to Mills and was accepted. It was at this same time that well-known director Max Reinhardt saw her in a play and offered her an acting contract. In a People magazine article, on her 100th birthday, she was asked if there was any advice she would give to her younger self and she noted: "Take a long leave of absence from the Warner contract and go to Mills College, where the scholarship I had won in 1934 is still waiting for me!"
The 130th Commencement will begin at 9:45 am on Holmgren Meadow on the Mills campus and will celebrate the academic achievements of 242 undergraduate women and 369 graduate women and men including students receiving certificates and credentials in a variety of fields. The event is open to the public.
The traditional farewell reception for graduating students, alumnae, faculty, and guests, held on the Art Museum Meadow, will follow the Commencement ceremony.
About Mills College
Located in Oakland, California, in the heart of the San Francisco Bay Area, Mills College is a nationally renowned independent liberal arts college for women with graduate programs for women and men. Ranked one of the top-tier regional universities in the West by U.S. News & World Report, Mills is also recognized as one of The Best 382 Colleges in the nation by The Princeton Review. Since 1852, we've been empowering students to become creative, independent thinkers who take and inspire action. For more information, visit http://www.mills.edu.
Facebook: https://www.facebook.com/millscollege
Twitter: http://www.twitter.com/millscollege
Instagram: http://www.instagram.com/millscollege
YouTube: http://www.youtube.com/millscollege