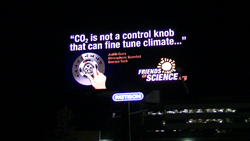 if all the Paris Agreement signatory countries met their targets through 2100, the likely reduction in warming might be 0.17°Celsius (seventeen one hundredths of a degree Celsius) – an undetectable amount
CALGARY, Alberta (PRWEB) March 29, 2018
Huffington Post reported on March 27, 2018, that Canada would miss Paris Agreement climate change targets to reduce greenhouse gases, according to a new report by Canada's federal environment commission auditor and several provincial auditors general. Friends of Science says that this outcome is self-evident to anyone with basic maths skills, referring the public to "Can Canada Survive Climate Change Policy?" the work of Robert Lyman, an Ottawa energy policy consultant who is a former public servant of 27 years, diplomat for 10 years. Indeed, based on performance to date, few countries will meet targets and global emissions will continue to grow.
The US government has pulled out of the Paris Agreement and appears to be basing new climate and energy policies on recent findings by Dr. John Christy (among others) which indicate that most of the recent warming was almost entirely due to natural factors, not human-caused greenhouse gas emissions, as presented in his May 29, 2017 testimony to the US House Committee on Space, Science and Technology.
On March 27, 2018, Canadian commentator Brian Lilley, reported that Canada's Minister of Environment and Climate Change, the Hon. Catherine McKenna, was unable to answer a simple question regarding the reduction in global warming that would result from the federal government's $50/tonne carbon tax. McKenna has consistently touted 'price on carbon' and 'price on pollution' as the most effective means of stopping climate change. Carbon dioxide is not classified as a pollutant in Canada.
Canadians see carbon taxes as destructive to the economy. Numerous provincial and federal leaders are challenging the policy. Saskatchewan Premier Scott Moe threatens to take the matter to court, as reported by Global News, Mar. 4, 2018.
Friends of Science Society says a commentary by Robert Lyman entitled "COP21 Agreement, Just the Facts, Please", notes that if all the Paris Agreement signatory countries met their targets through 2100, the likely reduction in warming might be 0.17°Celsius (seventeen one hundredths of a degree Celsius) – an undetectable amount. Canada represents only 2% of global emissions and would thus account for an infinitesimal impact on climate, but the resource-based Canadian economy would be turned to ashes.
According to Friends of Science, the Intergovernmental Panel on Climate Change (IPCC) has exaggerated projected warming and the effect of human-caused carbon dioxide by about three times what observed data shows. As reported by Lawrence Solomon in the Financial Post on May 30th, 2009, Enron funded environmental groups to push its carbon trading Kyoto agenda, falsely based on claims of climate catastrophe. Offshore funded environmental groups are rife in Canada; many key environmental activists participated in writing IPCC reports, according to the book "The Delinquent Teenager.." by author Donna Laframboise.
Friends of Science says claiming that climate catastrophe can be prevented by carbon taxes is false and misleading. They are calling for a halt to further Canadian carbon pricing, carbon taxes, renewables contracts, or climate initiatives until a public review of recent scientific findings is complete.
About
Friends of Science Society is an independent group of earth, atmospheric and solar scientists, engineers, and citizens who are celebrating its 16th year of offering climate science insights. After a thorough review of a broad spectrum of literature on climate change, Friends of Science Society has concluded that the sun is the main driver of climate change, not carbon dioxide (CO2).
Friends of Science Society
P.O. Box 23167, Mission P.O.
Calgary, Alberta
Canada T2S 3B1
Toll-free Telephone: 1-888-789-9597
Web: friendsofscience.org
E-mail: contact(at)friendsofscience(dot)org
Web: climatechange101.ca