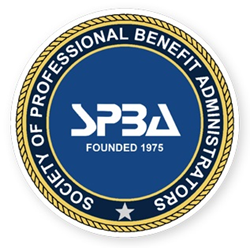 We are excited to welcome Erin to the SPBA team as she will be a tremendous asset to our staff and members.
CHEVY CHASE, MD (PRWEB) March 29, 2018
The Society of Professional Benefit Administrators (SPBA) announces that Erin Reiter has been hired as the organization's Director of Federal Affairs.
In her role at SPBA, Reiter will serve as a resource/liaison with federal officials on the regulatory issues related to employee benefits that impact third party administrators (TPAs). She will also advise SPBA members on how these issues affect TPA operations, keep them informed as new political developments occur and stay on top of industry happenings.
Reiter brings an in-depth comprehension of federal processes, regulation and legislation to SPBA. She has worked in Washington, D.C., in a variety of capacities, including her latest position serving as legislative counsel, where she handled a portfolio of trade, labor and immigration. She has also worked closely with the United States House Committee on Ways and Means. Reiter's value to SPBA and its members is further enhanced by her experience in collaborating with manufacturers, doctors and patients on issues related to health safety devices, enabling her to bring a unique and multi-dimensional perspective to industry topics.
"We are excited to welcome Erin to the SPBA team as she will be a tremendous asset to our staff and members," said Anne Lennan, SPBA president. "Her breadth of experience and background in government policy will be extremely helpful as our organization works to keep the administrators of self-funded plans informed of new and changing requirements."
Lennan shared that Reiter is eager to master health policy from the unique perspective of third party administrators (TPAs) and specialize in the employee benefit-related issues that are important to SPBA's members.
Reiter began working at SPBA on February 12.
SPBA is the national association of Third Party Administration (TPA) firms that manage client employee benefit plans. It is estimated that over 75% of U.S. workers and their dependents in non-federal health coverage are in plans administered by TPAs. The clients of TPA firms include every size and format of employment, including large and small employers, state/county/city plans, union, non-union, collectively bargained multiemployer plans, as well as most industries and professions.