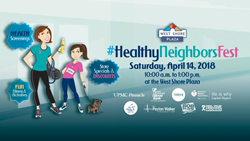 We have a large physical space—an entire Plaza—that can support community health. I'm thrilled to see our Plaza used as a driver for health education, fitness, and well-being.
CAMP HILL, Pa. (PRWEB) March 29, 2018
Smith Land & Improvement Corporation, owner of the West Shore Plaza, presents the Healthy Neighbors Fest, a community health day, on Saturday, April 14, 10:00 a.m. to 1:00 p.m. at the West Shore Plaza, 1200 Market Street, Lemoyne.
"We have a large physical space—an entire Plaza—that can support community health. I'm thrilled to see our Plaza used as a driver for health education, fitness, and well-being," says Richard E. Jordan III, President & CEO of Smith Land & Improvement Corporation. "Shoppers will be treated to store specials, free health screenings, fitness workshops, giveaways, and a Walk to Health. Take the First Step postcards will be distributed as an easy reference to start your own walking route—from 500 steps to a 3K—starting at the Plaza."
The Plaza-wide event begins at the Goodwill store at 10:00 a.m. with a formal presentation of an Automated External Defibrillator (AED) by the Peyton Walker Foundation to Goodwill Keystone Area President & CEO John McHenry. Goodwill store personnel will receive AED training and the AED will be installed for public use to check heart rhythm and treat for sudden cardiac arrest (SCA).
Meet a family medicine provider at the UPMC Pinnacle booth at 10:30 a.m. to join in a "West Shore Plaza Walk to Health." Daniel Chege, CRNP, Heritage Family Practice, in Lemoyne, will lead a series of 15-minute strolls at the Plaza to give people an opportunity to ask health and wellness questions and talk to a medical provider while walking.
#HEALTHYNEIGHBORSFEST partners include UPMC Pinnacle, American Heart Association®, Central Pennsylvania Blood Bank Bloodmobile, The Peyton Walker Foundation, BOB 94.9, Thrive Fit Co., Feel Your Boobies®, Girls on the Run®, and Susquehanna Style.
"UPMC Pinnacle is deeply rooted in our commitment to improve the health and quality of life in central Pennsylvania," says Doug Dyer, senior vice president, planning and business development. "When we join together to provide health education, screenings and wellness opportunities, we can make our communities healthy places to live, work, and play."
West Shore Plaza tenants will feature specials and giveaways, including:

200 pedometers and swag bags on a first-come, first-served basis, donated by M&T Bank;
Handmade dark chocolate samples, plus Seven Health Benefits of Dark Chocolate from Macris Chocolates;
25% discount on all Safety Works products in stock—safety glasses, safety vests, hearing protection, first-aid kits, dust masks, and hard hats from Ritter's True Value;
Free apples from Toigo Orchards, and silicon jewelry bands to U.S. military veterans and emergency responders while supplies last from K Novinger Jewelry;
Free chair massages and heart-healthy essential drinks from Polished Salon, Spa, & Wellness;
Balloons and stress balls handed out by Good Dog, the Goodwill Keystone Area mascot.
"We applaud Smith Land & Improvement Corporation and the West Shore Plaza for joining our lifesaving efforts to protect the health and well-being of our families throughout central Pennsylvania," says Julie Walker, founder and director of The Peyton Walker Foundation. "Following the AED presentation, we will also provide on-site demonstrations for CPR and defibrillators–lifesaving skills that are needed when someone is experiencing cardiac arrest. Through events like Healthy Neighbors Fest, we are able to increase awareness and survival rates for cardiac arrest."
"With more people shopping local in our brick-and-mortar stores, community relationships are strengthened, small business grows, and walkability increases with people on the move," says Jordan III.
Join the conversation online by following the hashtag #HEALTHYNEIGHBORSFEST and learn more about this community event on Facebook, Instagram, and Twitter.
ABOUT SMITH LAND & IMPROVEMENT CORPORATION
Founded in 1961, the company has a 57-year history of responsible and responsive commercial real estate development and land ownership. With a portfolio of nearly 50 properties and over 1 million SF throughout the Mid-Atlantic, the Smith Land team has chosen to concentrate 80 percent of its real estate investments in their own "front yard" of central Pennsylvania. "We do not outsource our eyes," says Richard E. Jordan II, CEO. When Smith Land & Improvement Corporation is the developer, business builders and investors can expect a productive working relationship, high-caliber site selection, and easy access to business expansion.
ABOUT WEST SHORE PLAZA
Celebrating 64 years of retail services to the community, this landmark center sits on two high-traffic corridors connecting Harrisburg to the West Shore. With an attractive façade, easy access, and a striking digital sign, the West Shore Plaza continues to maintain high shopper volume and be a recognized shopping destination. The 22-store property features local and national retailers, as well as family businesses.