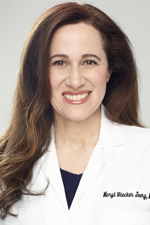 People who sweat profusely are sometimes falsely viewed as lacking in good hygiene or being 'out of shape.
ALBERTSON, N.Y. (PRWEB) April 03, 2018
Compared to other physical impairments, excessive sweating may seem like – well – "no sweat," but, "that assessment couldn't be further from the truth," says dermatologist Dr. Meryl Joerg. "The disorder, hyperhidrosis, is oftentimes unrecognized, undiagnosed and associated with other physical complications like skin infections and significantly affects patients' emotional and psychological well-being," says Dr. Joerg of New York- and New Jersey-based Advanced Dermatology PC and the Center for Laser and Cosmetic Surgery. "The condition causes people to sweat well beyond what the body requires to regulate its temperature."
She points to two recent studies – one, in a 2016 issue of The Journal for Nurse Practitioners, which recommends more routine screening by health providers to ensure patients with a sweating problem receive the information and treatment they need; and a second, published 2017 in Health and Quality of Life Outcomes, which concludes that the disorder disrupts patients' everyday activities and has harmful effects on their psychosocial well-being, self-esteem, confidence and even occupation. Hyperhidrosis can lead to depression and social withdrawal, study authors write.
"People who sweat profusely are sometimes falsely viewed as lacking in good hygiene or being 'out of shape,'" Dr. Joerg says. "Although a range of treatment options is available, hyperhidrosis patients oftentimes fail to recognize they have a treatable medical condition, and that's why they struggle with the problem on their own," Dr. Joerg says.
Because hyperhidrosis is so underreported, statistics on the disorder's prevalence vary – from about 8 million to more than 15 million Americans affected. The Canadian Dermatology Association reports that fewer than 40 percent of hyperhidrosis patients in that country even discuss their condition with a health care professional.
The most common form of the disorder – primary focal hyperhidrosis – begins as early as childhood and is suspected of being hereditary in nature. Overactive nerves that are responsible for activating the sweat glands can cause excessive sweating in specific areas of the body, such as the hands, feet, face and underarms.
Secondary hyperhidrosis, which may result in more generalized sweating, is the result of other, underlying medical conditions like heart disease, thyroid problems, tumors, nervous system disorders and diabetes.
Treatments for hyperhidrosis range from over-the-counter products and doctor-prescribed antiperspirants, creams, antidepressants and anticholinergic (nerve-blocking) medications to more aggressive therapies:

Botulism injections to temporarily block sweat-gland-signaling nerves
Wave and laser treatments to kill sweat glands
Surgical procedures that completely remove sweat glands or seal off nerves
Before acting, patients who sweat abnormally should talk to a dermatologist concerning the best approaches in their specific case, Dr. Joerg emphasizes. "What works well for one patient may not work at all for another."
Helping prompt the search for more effective treatments of hyperhidrosis is some scientific concern about the association between long-term use of anticholinergic medications, which are often prescribed to treat excessive sweating, and abnormal changes in the brains of older, but otherwise healthy, adults. These changes can include alterations in brain metabolism, impairment of cognition, brain atrophy and dementia. Anticholinergic drugs block a specific neurotransmitter in the nervous system.
Authors of a study published in a 2016 edition of Neurology, a journal of the American Medical Association, conclude that long-term use of medications with anticholinergic activity "should be discouraged in older adults if alternative therapies are available."
Of course, patients do not always have to turn to prescribed drugs and medical procedures to treat their hyperhidrosis, Dr. Joerg says. "Sometimes, simple home remedies and certain lifestyle changes can help." She advises sweating sufferers to:

Apply over-the-counter antiperspirants and products containing tannic acid to the areas most prone to sweating.
Dress in clothing made of natural materials, including socks that wick away moisture and leather shoes, to allow more air circulation around skin.
Whenever possible, wear sandals, which allow the feet to "breathe."
Avoid consuming alcohol, caffeine and hot, spicy foods, especially foods containing curry and cumin.
Practice relaxation techniques. Stress and anxiety can trigger sweating.
"Above all, if you sweat too much and are embarrassed by it, have yourself checked by a dermatologist," Dr. Joerg advises.
Meryl Joerg, M.D., is board certified dermatologist with Advanced Dermatology P.C.
Advanced Dermatology P.C. and the Center for Laser and Cosmetic Surgery (New York & New Jersey) is one of the leading dermatology centers in the nation, offering highly experienced physicians in the fields of cosmetic and laser dermatology as well as plastic surgery and state-of-the-art medical technologies. http://www.advanceddermatologypc.com.