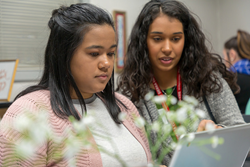 "I often reflect on my own experience enrolling in college and it was scary and intimidating. I see the same thing in the faces of our students. They don't know even where to even begin." But over a short time she sees them go from confused and overwhelmed--to relieved.
ROCKLIN, Calif. (PRWEB) March 30, 2018
About 750 students from 15 area high schools, some who thought they'd never go to college, will board buses on April 20 and head to the Rocklin campus of Sierra College for a celebration to kick off Sierra Promise.
For over half (56%) of the students, they will be the first in their family to attend college. But they'll be on that bus, prepared by Sierra Promise counselors, college-ready before high school graduation, and with an education plan literally in hand. When they arrive on campus with access to financial aid, they will sign up for fall classes at early priority registration. They are students with a head start on college, intent on becoming nurses or welders, teachers or business owners, firefighters, psychologists and engineers.
During the welcome ceremony at Buzz Ostrom stadium, while listening to the DJ on the Quad, they will find a familiar face--the person who has come frequently to their high school their Sierra Promise Enrollment Specialist.
One of them is Elvira Covarrubias who, as one of her assignments, works with Sierra Promise students at Woodcreek High, near Maidu Regional Park in Roseville. "I often reflect on my own experience enrolling in college and it was scary and intimidating," she said. "I see the same thing in the faces of our students. They don't know even where to even begin." But over a short time she sees them go from confused and overwhelmed--to relieved. She added "They are soon making decisions confidently about their majors and career options."
Working Together
While it's the Enrollment Specialists who are the direct link from college to student, the Sierra Promise partnership also includes, at each of the high schools, one resident counselor who is trained and compensated by the college for accepting duties as the Sierra Promise transitions counselor. They provide career guidance and help students develop individual college education plans which align their high school instruction with requirements of their anticipated major or workforce certificate.
Because many students are uncertain about their career, there are classes in high schools where students explore interest areas while also earning college credit. The counselors can then work out a schedule of courses that will meet the requirements of a degree or certificate in the area of a student's interest. The goal is to connect classes to careers.
From the college side, the team of six Sierra Promise Enrollment Specialists, travel weekly to designated high schools to assist students with all the enrollment steps, financial aid and scholarship requirements; and to provide guidance.
"It's very hands-on with the students," said Kylee Keroher who supervises the Enrollment Specialists and sees students at Bear River High near Lake of the Pines south of Grass Valley. "I see them at lunch or ask to pull them briefly out of class. A student can be anywhere in the process," she said, "just applying or pretty far into it--and needing a nudge. Has the student completed her Financial Aid paperwork? Did he activate his mySierra account on the college website? Did she send in her transcripts? We track them through each step."
The Sierra Promise Agreement
One of the required steps is for the student is to sign the Sierra Promise agreement, Commitment to College which the Enrollment Specialist also signs. It says what's expected of the student and what, in turn, the college promises to help them with. Through counselors, workshops, events and campus resources, the Sierra Promise Team of Enrollment Specialists and Transition Counselors are able to help students complete the college application, develop the education plan, give them priority registration and connect them to services that help them succeed. In return, students agree to complete registration of 15 units per semester and consider their financial aid options.
Sierra Promise students also have the opportunity to participate in fun and engaging activities aimed at building relationships with the Sierra College community, as well as connecting students with our many campus resources. As part of 'Summer Jam', students will be presented with a college orientation that explores major and career interest areas, tips and strategies for college success, and setting educational goals.
The second part of the Summer Jam event runs for five half-days and offers students the chance to brush up on their Math and English skills before beginning the Fall Semester.
A Community Investment
Funded by one-time grant of $750,000 in seed money from the Community College Chancellor's office and augmented by generous donations from community members to the Sierra College Foundation, Sierra Promise is around to stay. It addresses serious problems faced by educators nationwide; one being how to increase the success of students enrolling in community college. Additionally, recent analysis indicates that a startling 75 percent of students in each incoming class drop out without completing their education.
And this is happening at a time when, of the 11.6 million jobs created in the post-recession economy, all but 100,000 of them required a college education. This, according to the Georgetown University Education and Workforce Center which also reports that employers have found that they get higher-quality work, greater productivity, and more innovation from workers who are college educated.
"A trained workforce is key to making our communities attractive to business and industry," said Stan Nader, longtime mayor of Lincoln, the fastest growing small city in the nation. He said Promise will help students focus on their careers early on to be more efficient and successful in their education. "Such initiatives shorten the time students need to earn their degree or certificate. At city hall and in the business community we love to bring these focused students in as interns."
Willy Duncan, the President of Sierra College said that Promise initiatives statewide are most successful when driven by community groups, elected officials and civic leaders--something he's hoping to see happen throughout the college district. "Where we come together and do something about a problem that's so very close to home. It's a community investment in local families and the future of our economy."
For more information on Sierra Promise: https://www.sierracollege.edu/student-services/support-programs/promise/index.php
###