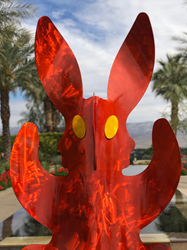 RANCHO MIRAGE, Calif. (PRWEB) March 30, 2018
The Ritz-Carlton, Rancho Mirage will welcome the Spring season with a weekend filled with special events, a lavish Easter brunch, and Spring-themed art installations perfect for pictures.
Winter has come and gone, and the temperatures in the Palm Springs Valley are steadily rising. Before the triple-digit weather comes to the desert, The Ritz-Carlton, Rancho Mirage is celebrating the beginning of Spring from March 30th to April 1st with outdoor activities and culinary delights.
For guests with Ritz-Kids dining or staying overnight, activities include Easter Egg painting, Dive-In Movies at the main pool, a petting zoo and Easter Egg hunts. The Ritz-Kids Center offers full and half-day programs for children ages 5 to 12, and is available Friday and Saturday. Advanced reservations are required, and can be made by calling 760.321.8282.
Adults aren't left out of the celebratory weekend, as State Fare Bar & Kitchen offers their Mimosa Bar both Friday and Saturday morning followed by a Taco Bar at the adults' Vista Pool. Wine Tasting will be available on Saturday, March 31st for $25 per person and includes five wine samples along with complimentary valet parking for attendees not staying on-property.
The recently-released Constellations & Cocktails menu at State Fare Bar offers specialty libations for the stargazing experience which currently takes place at 7:45pm Wednesday through Sunday next to the Reflection Fountain.
Also beside the Reflection Fountain, guests can find one of three Spring-themed art installations. Renowned Palm Springs husband and wife artist-couple Tony and Karen Barone have once again generously provided their signature, larger-than-life aluminum sculptures. This year, Love Bunnies, Wheeee!, and Polka Pooka Rabbit were created specifically for the new season, coated in lively and vibrant hard-to-miss colors.
Finally, the whole family can enjoy Easter Brunch in The Ritz-Carlton Ballroom which includes two complimentary glasses of sparkling wine per adult, complimentary valet parking and live entertainment. Adults are $95, children age 12 and under are $35 and children age 2 and under are complimentary. Reservations are highly recommended, and can be made by calling 760.321.8282.