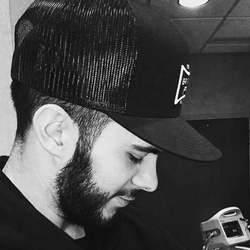 LOS ANGELES (PRWEB) March 30, 2018
After teaming up with Future on his LX Xander produced single "Insurgents", Yaydo returns with his brand new single and video for "UBETCHA". The track was jointly produced by LX Xander & Centaur Beatz and features Yaydo snapping off verses while dodging shots inside a laser-tag arena. The video can be seen online at http://www.youtube.com/ghostcraftmusic and is the new single from Yaydo on Ghostcraft.
"The track is more or less a parody of the state of rap these days, the simplistic lyrical styles alongside a bass-heavy beat. In almost an '8 Mile' sort of twist I use the phrase 'Ubetcha' as a self-aware jab at myself but at the same time using that same ammunition to make it cool," commented Yaydo. "I had an absolute blast getting random people and fans in on the shooting of the video and their genuine enthusiasm reflected in the video, I'm very much excited for the release both for myself and for everyone that was involved. Originally the track started life as a joke, a dare of sorts, my brother and I were having a laugh about the odd and very on the nose nature of some of the sayings we have here in northern Minnesota. He had bet me that I couldn't use one of those sayings on a track and make it a banger, haha well I tried my best and after a few hours of trying to find just the right phrase to use we settled on that one and I'm happy to say I'm pretty pleased with the results."
Hailing from Minnesota, 22-year old Yaydo has been rising the ranks of hip-hop's freshman. Emerging on the scene with his "Mama's Know Best" video, which quickly racked up nearly 100,000 Youtube views before Yaydo had ever stepped foot on stage to perform for the first time. With his second release, Yaydo dropped "The Red Room" featuring Hopsin, which went viral collecting over 1 million plays and becoming a staple of Spotify playlists. Since then Yaydo has stepped up his social media game interacting with his 15,000 followers on Instagram and another 13,000 on Twitter on a daily basis. With his combination of high-energy, rapid-fire raps, and trap banging beats, Yaydo is making his case to become head of the freshman class.