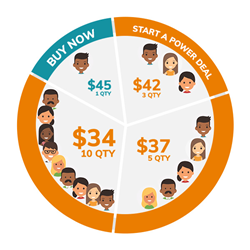 The MassGenie Power Circle is a new, innovative and fun way to shop
IRVINE, Calif. (PRWEB) April 09, 2018
MassGenie announced today that it has a launched a new Power Circle that enhances the Crowd Shopping experience on their platform. The Power Circle simplifies the existing Power Deal experience, where consumers leverage the power of crowd sourcing to drive down prices. The Power Circle is a new, innovative and fun way to shop.
MassGenie launched in mid-2017 with a vision to drive crowd shopping. The site now has over 1.3 million products and over 13,000 brands. Over 675,000 users have visited the site since its launch. Late last year MassGenie completed its integration with the ChannelAdvisor platform. Thousands of sellers use the ChannelAdvisor platform to list, manage and track their merchandise sales across many marketplaces like Amazon, eBay and Walmart.
"We hope our visitors will have as much fun shopping with the Power Circle, as we did making it" said Dan DeVries, COO of MassGenie. "We are merging the buying experience to create a memorable experience. MassGenie wants our community to be entertained while shopping with us. The future of the Power Circle will be the fusion of gaming with social aspects, along with something we all need to do, shop".
MassGenie has also secured their second round of funding, in order to continue growth as a leading crowd shopping e-Commerce platform. The latest round, led by Kohei Terada, will help accelerate the company's growth and set the company up for their Series A round which is expected to close by Q4 of 2018.
DeVries said "We are all very excited about securing the second round of funding which will allow us to increase our advertising, and further enhance new customer acquisition and revenue".
About MassGenie
MassGenie is a unique online crowd shopping marketplace site, which combines the power of crowdsourcing and ecommerce. MassGenie is based in Irvine, CA. Follow MassGenie on Facebook, Instagram, Twitter and LinkedIn. MassGenie was founded and is led by veterans in the ecommerce and software industries. The Power Deal was invented by MassGenie's female CTO, Thu Truong. To learn more about MassGenie, visit http://www.massgenie.com.