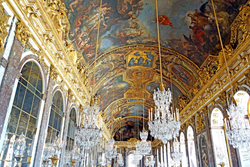 Whether it's for their beauty, their scale, or their impact on history, the rooms we encounter while traveling inspire as much awe as any natural wonder.
(PRWEB) April 03, 2018
Travel may be about getting out and about but that doesn't mean all the best attractions are always outdoors. Whether it's for their beauty, their scale, or their impact on history, the rooms we encounter while traveling inspire as much awe and reverence as any natural wonder. With that in mind, the members and editors of travel website Trippy.com announce "Ten Awe-Inspiring Rooms Around the World".
Hall of Mirrors, Palace of Versailles; Versailles, France
You know how you have that one room you use to really impress company? That's essentially what the Hall of Mirrors was at the Palace of Versailles. Decorated with 357 mirrors, the room was originally meant to show that France was as well equipped in the field of mirror making as its manufacturing rival, Venice. With that kind of opulence, it's no wonder that this room was the one the Sun King chose when he really wanted to impress his guests.
The Jungle Room, Graceland; Memphis, Tennessee
While it may not win any awards for taste, this room was said to be a favorite of the Presley family. The Polynesian-themed den also served as a recording studio at one point and was said to remind Elvis of Hawaii. With green shag carpet and an artificial waterfall, it's just an ocean breeze away from being the real thing.
Amber Room, Catherine Palace; Pushkin, Russia
Some people will just give you the pictures right off their walls if you say you like them. Such was the case with the Amber Room in the Catherine Palace. Given to Peter the Great when he was a guest of the King of Prussia, this totally over-the-top room was dismantled and stolen by the Nazis during World War II. Although later recreated, the original Amber Room is thought to still be out there somewhere, making it a treasure hunter's dream.
Churchill War Rooms; London, U.K.
Hidden beneath the streets of London lies the maze of rooms and corridors from which Churchill and his staff directed the Allies to victory in World War II. Preserved "exactly as it was left on the day the lights were switched off in 1945," these rooms are an extraordinary look at the behind-the-scenes machinations of one of history's deadliest conflicts.
Ford's Theater; Washington, D.C.
Although this still-working theater now boasts modern equipment and amenities, this famous auditorium is much better known for a single event than it is for its productions. Complete with museum and guided tours, it gives visitors a first-hand look at one of the most pivotal events in American history. As Trippy.com member Janelle Kennedy remarks, "being in the very room where President Lincoln had been shot 150 years earlier was eerie and surreal. It was a moving experience."
Anne Frank's Bedroom, Anne Frank Museum; Amsterdam, The Netherlands
Arguably, no room on our list, or any other for that matter, is more moving or heartbreaking than that of Anne Frank's girlhood bedroom. Part of the famous "Annex" in which the famous diarist and her family hid from the Germans during World War II, the room touchingly illustrates Frank's efforts to remain a normal teenager during the most abnormal of times.
The Library at Biltmore; Asheville, North Carolina
It's no surprise that when planning his famed country retreat, George Vanderbilt, a rabid reader who sent his books out to be bound in Moroccan leather, made his library a focal point. Said to have averaged an 81-book-a-year habit, Vanderbilt's passion for the written word can be felt in every corner of this extraordinary library. This room, which houses Vanderbilt's over-20,000 volume collection, is in especially rare form at Christmas.
Raphael Rooms, Palace of the Vatican; Vatican City, Italy
Talk about a fixer upper! It was over 500 years ago that the artist Raphael was commissioned to beautify the apartments of Pope Julius II who was less than satisfied by the décor left by his predecessor, Pope Alexander VI. Started in 1508, the ornate frescos that made the apartment famous were finished by Raphael's students upon his death in 1520.
The Ambavilasa, Mysore Palace; Mysore, India
Used by India's kings to receive visitors, this ornate room pulls out all the decorating stops from stained glass to semi-precious stones embedded in the floor. Its only rival might be the Kalyana Mantapa, the palace's opulent marriage hall. Not surprisingly, the palace is the one of the country's most popular tourist attractions, second only to the Taj Mahal.
L'hôtel de Wendel Ballroom, Musée Carnavalet; Paris, France
Although you won't be able to visit for some time as the museum is currently under renovation, this particular room in the Musée Carnavalet is worth the wait. A reconstruction of a famed 1925 Art Deco ballroom, this room showcases the work of artist and muralist José-Maria Sert who was famously commissioned to paint over Diego Rivera's controversial mural, "Man at the Crossroads" at 30 Rockefeller Plaza.
Don't see your favorite awe-inspiring room on this list? Tell us about it at Trippy.com!
Trippy is a community of travelers helping each other travel better.