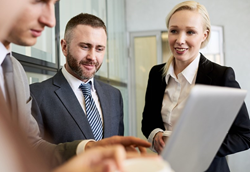 The GDPR rules will affect all but the smallest companies in the U.S.
HOBOKEN, N.J. (PRWEB) March 29, 2018
A NYC area IT consultant and MSP explains the new European privacy law, the General Data Protection Regulation (GDPR), which is due to take effect May 25, 2018, in a new article on the eMazzanti Technologies website. The law applies to all organizations selling to or collecting personal data about customers in the European Union (EU).
The informative article lists the major changes coming under GDPR, including rules intended to enhance personal privacy, controls and notifications affecting data collection and security, and IT staffing and training requirements. A brief GDPR readiness assessment is also included, along with information about how Microsoft 365 and the Microsoft Cloud can aid compliance.
"Microsoft leads the way in data privacy protections and data security compliance," stated Jennifer Mazzanti, CEO, eMazzanti Technologies. "It's modern cloud services and online resources can help most smaller businesses prepare to be ready for GDPR."
Below are a few excerpts from the article, "Is Your Business Ready for GDPR?"
"In May 2018, a European privacy law, the General Data Protection Regulation (GDPR), is due to take effect. We in the United States may think that it doesn't apply to us. But, if you sell to customers in the European Union (think about Internet sales) it does. And, after venting your frustration over new and complicated regulations, you need to take steps to be ready for GDPR."
"The GDPR imposes new rules on companies, government agencies, non-profits, and other organizations that offer goods and services to people in the EU, or that collect and analyze data tied to EU residents. The GDPR applies no matter where you are located."
Enhance GDPR compliance with Microsoft 365 and the Microsoft Cloud
"Microsoft 365 can strengthen data security and streamline your path to GDPR compliance. It provides real-time assessments with actionable insights and protects customer data across devices. Built-in, audit-ready tools in Microsoft 365 simplify compliance."
"The Microsoft Cloud's sophisticated built-in controls can help you comply with complex GDPR privacy requirements—such as how you collect, store, and use personal information and at times mandating a 72-hour notification for personal data breaches."
Businesses Affected by GDPR
The GDPR rules intended to strengthen data protection and privacy within the European Union (EU) will affect all but the smallest companies in the U.S. Those most impacted are organizations that provide products or services to individual customers, including retailers, financial services, insurance and legal services and others.
Companies that process personal data on behalf of other businesses such as cloud and platform-based services, analytics, event management and marketing companies must likewise comply. Manufacturers that collect personal data on people who buy their products are also affected.
eMazzanti Technologies wants to help its customers take the necessary steps to be ready for GDPR while focusing on core business processes. The company's IT security experts can help small and mid-size business leaders start the process and connect with resources to complete the journey to full compliance.
Related resource information:
4 Easy Ways to Make Things Difficult for Hackers
What is Microsoft 365 Business and Who is it for?
About eMazzanti Technologies
eMazzanti's team of trained, certified IT experts rapidly deliver retail and payment technology, digital marketing services, cloud and mobile solutions, multi-site implementations, 24×7 outsourced network management, remote monitoring and support to increase productivity, data security and revenue growth for clients ranging from law firms to high-end global retailers.
eMazzanti has made the Inc. 5000 list eight years running, is a 2015, 2013 and 2012 Microsoft Partner of the Year, 2016 NJ Business of the Year, 5X WatchGuard Partner of the Year and one of the TOP 200 U.S. Microsoft Partners! Contact: 1-866-362-9926, info(at)emazzanti(dot)net or http://www.emazzanti.net Twitter: @emazzanti Facebook: Facebook.com/emazzantitechnologies.